A few weeks ago my stepdaughter announced that she was running for student council. I thought this to be a courageous move on her part given that she was the "new girl" in school, and I was honored that she asked me to help with a speech she had to give in front of the class.
"Absolutely," I said sticking my chest out. "You go ahead and write the first draft and then we'll work from there."
My thought process here was to gauge my stepdaughter's understanding of what she thought it meant to be on student council. A few days later she walked into my office and presented me with piece of notebook paper that contained her speech.
To begin, she introduced herself, before providing a few family details, and explaining our move from Texas. "Not too bad," I thought. Then things went in a different direction as she jumped into the next section.
"I like volleyball, and I played for (such-and-such) team in Texas. I like shopping at Justice and playing with friends. My favorite movie is Twilight, and I like playing video games sometimes. I also like peanut butter even though my sister is allergic to it. I want to make this last year in elementary the best ever!"
Ooookay. This might've worked with judges at a beauty pageant or if running for President, but it wasn't going to cut it if she wanted to get elected to 5th grade student council.
Looking up, I asked my stepdaughter to explain what she thought student council did exactly. In her reply she mentioned things like, representing her class and helping teachers plan parties—lots and lots of parties. "Oh, and we get free breakfast at our council meetings too!" she added.
Eh, close enough. At least she understood the part about helping out teachers and fellow students. Building from this, I explained that if she planned to help others, those people would probably want to know what qualified her to be on student council and how it would best benefit them. The light clicked for her, and we revised the speech, outlining several traits my stepdaughter possessed that applied to her responsibilities as a student council member.
Thinking about this little experience, reminded me of several parallels related to content creation and how it performs through social media.
1. It's good to be social, but know what you're getting into
It was great that my stepdaughter decided to put herself out there, but to some extent she didn't completely understand what she was getting into. This same can be true with a company's expectations as they produce content and attempt to build social media programs. This is something we've addressed before in more detail, but what I'd like to highlight here is the amount of time required in order to produce results. It could take a few hours or more per day to monitor online conversations, look for engagement opportunities, and build relationships, besides promoting content. It's the virtual version of kissing babies and pressing the flesh on the campaign trail, which requires time and energy. However, it will pay off as there is a direct correlation between increased amounts of time spent on social media channels and higher lead generation according to Social Media Examiner's 2012 Social Media Marketing Industry Report.
2. Shilling or solving—that is the question
Although the first draft of my stepdaughter's speech may have been cute, the problem was that it focused only on her rather than on how to help fellow students and teachers. In their book, Content Rules: How to Create Killer Blogs, Podcasts, Videos, Ebooks, Webinars, (and More) that Engage Customers and Ignite Business, C.C. Chapman and Ann Handley explain that companies need to share or solve, not shill. "Good content doesn't try to sell," they point out, contending instead it should be a resource that makes your customer's lives better or easier. If you're standing at the podium and talking to your audience only about yourself when your competition discussing solutions with their content, then it's likely they'll be ahead in the polls.
3. Voting is validation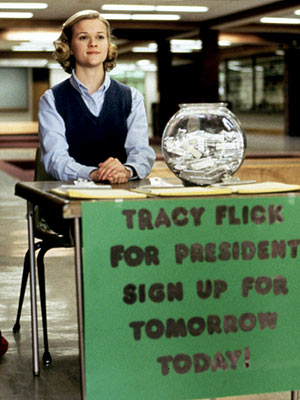 In building my stepdaughter's speech we brainstormed a list of issues involving her classmates and teachers and then made a second list of her strengths that related to those issues. The intention, of course, was to gain the other student's confidence and subsequently, their vote as well. That process is fundamentally how companies should develop their content, with the same intent of earning the confidence of potential clients and maintaining the loyalty of current ones. Done right, this will get you "votes" in the form of social sharing which should be, in part, validation of your content's quality. Remain consistent, and you will benefit from the "Cycle of SEO and Social Media" outlined by Lee Odden in his book, Optimize: How to Attract and Engage More Customers by Integrating SEO, Social Media, and Content Marketing. This cycle, according to Odden, begins with developing optimized, quality content that gains awareness through engagement (i.e. "voting"); this then builds exposure due to increased attraction and leads to the growth of your company's reputation. The cycle continues when you analyze what content is working, refine it, and repeat the cycle all over again.
These are very simple concepts, I know, but you would be surprised at the number of companies unable to grasp them. Often they complain about putting all the time and effort into creating content that no one ever responds to or shares with others. One quick peek at what they are publishing on their blog or all that one-sided conversation on their social sites, and it's evident where the problem exists.
Yes, being successful through content marketing and social media is a huge time commitment, but if your company can be the one that's listening to customer concerns and offering legitimate, beneficial solutions, then it's likely you'll be voted to student council instead of your competition.
By the way, in case you're wondering how things turned out for my stepdaughter, well, I don't like brag, but…
Photo: Fanforum.com