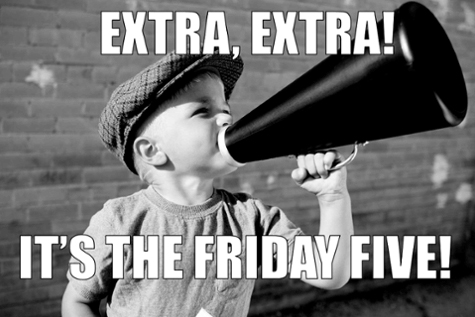 Happy Holiday's! We're saying it now because it's the last Friday 5 of 2012 (we're taking a week off). Here's what's under the tree this week in The Friday 5: Five Headlines from Social Media, Inbound Marketing, SEO, and Web Design, keeping you up to date with the latest news, trends and tips from the past week.
SEO's 2012 Review
13 Resolutions Marketers Should Make
Digital Trends for 2013
Changes to Your Facebook Timeline
Questions About Negative SEO
(Search Engine Watch) With the end of the year upon us, I wanted to review my team's 2012 performance to inform our approach for 2013 and set ourselves some targets. As we've been preaching to clients that good content is honest content, I thought why not post-mortem our performance in public and let the data serve as a vehicle to describe how we'll be approaching SEO in 2013?
(Search Engine Watch) The new year is the perfect time to kick your professional butt into gear. Whether you are a devoted resolution-maker or just want to know how you can be a better marketer, here are 13 changes every marketing professional should make in 2013.
3. Six Digital Trends for 2013
(Social Media Today) It's that time of year again — time to take a stab at what's going to matter in the year ahead as technology continues to influence how we work and live. In previous years, I've looked at trends under the "social media" lens because that has been the major disruptive force, creating both opportunities and threats. This year, I'm using the umbrella term "social-digital" to broaden the focus. First, a quick re-cap from the last year:
(Mashable) Ready for some more design tweaks to your Timeline? If not, watch out. Facebook is experimenting with some significant changes that are already showing up for a small number of users -- and may roll out to the masses very soon. According to ABC News, where a producer's Timeline first revealed the changes Thursday, the new version is a return to tabs. Gone are the thumbnail pictures for "Friends," "Photos" and "Map" (where you see all the places you've checked in or geotagged yourself)
(Google Webmaster)
* * *
If you liked this blog post, you should share it. If you really liked you'll probably like the information our whole team publishes—you should subscribe. You can also subscribe to our Lynton Webzine, a collection of articles from among the best sites in web marketing and design. And if you really, really, liked it, then you will like engaging with the likeable, knowledgeable, loveable bunch at Lynton through our social networks.