Creative Content Helps AVEVA's Cosmetics Campaign Shine
---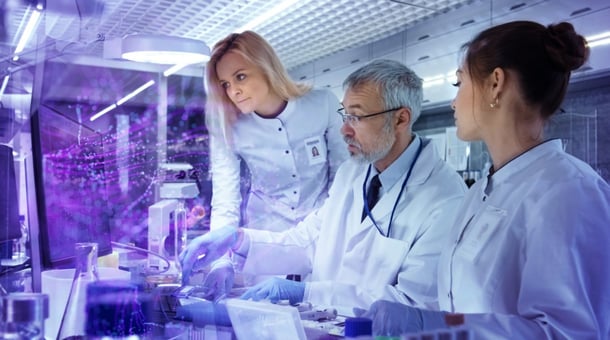 The Client
AVEVA, headquartered in Cambridge, England is a global industrial software company that provides solutions to manufacturers of different verticals. Examples of industries they provide technology to include food and beverage, chemicals, infrastructure, life sciences, marine, mining, oil and gas, and consumer product goods (CPG).
With their suite of products and solutions, companies that fall into these industries can help shape the future by tapping into their data and embracing digital transformation. AVEVA's software portfolio has been built through years of industry-leading innovation in technology and business alignment with customers worldwide. They continue to evolve, speaking new solutions to help their client base.
The Challenge
AVEVA's North American region's office wanted to target a highly- specific audience: cosmetics producers and manufacturers. This led to them taking on an account-based marketing approach to narrow their campaign to roughly 1,000 contacts that fit the necessary criteria.
However, because this was a relatively new audience for AVEVA, they lacked content that showed how their Manufacturing Execution System (MES) and Manufacturing Operations Management (MOM) software could help cosmetics producers tackle the unique challenges they face that are brought on by the new digital era. They reached out to us to flesh out this ABM campaign, including content and design. The ultimate end goal of this ABM campaign was to engage with users through inbound marketing tactics, encouraging them to reach out to learn more about MES and MOM.
The Creative Solutions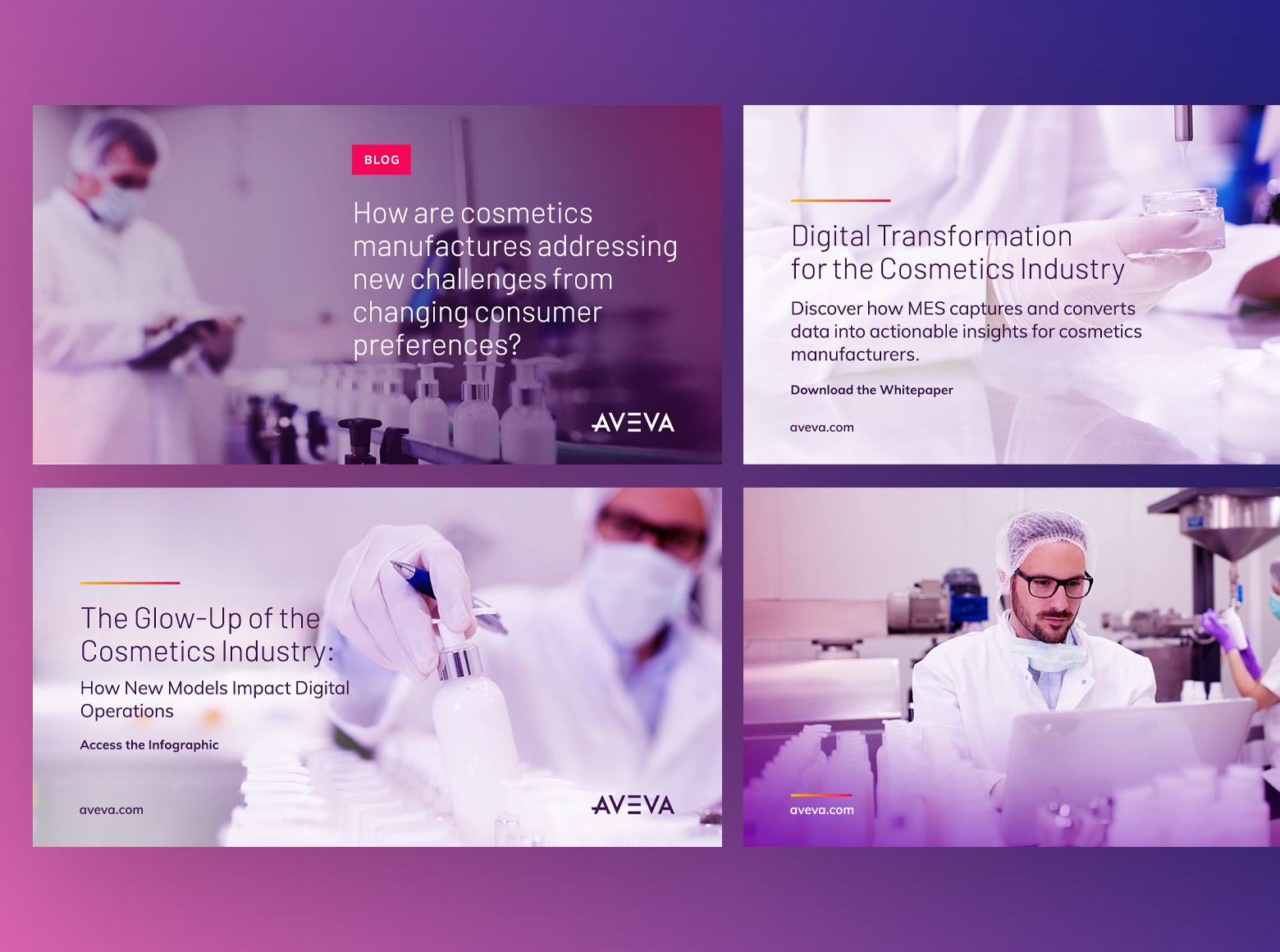 Our team, working closely alongside AVEVA's North American office, worked on a content and inbound marketing roadmap to streamline the campaign. We conceptualized a comprehensive strategy, then constructed specific material aimed at their intended audience of cosmetics manufacturers and producers. This content included:
One detailed blog about the impact of manufacturing excellence and digital transformation on the cosmetics industry, with a tie into AVEVA's MES/MOM solutions
An infographic, including help line-editing the copy, that depicts the state of cosmetics for producers and manufacturers, again with a tie into AVEVA's specific software

Landing page and thank you page template and copy, to gate the infographic and gather contact information

Design for a whitepaper that a third party wrote

Landing page and thank you page template and copy to gate their whitepaper for the same reason as their infographic

LinkedIn and Facebook posts with custom graphics that related to the campaign content

Facebook advertisements, including the copy and graphics, that sent users to each landing page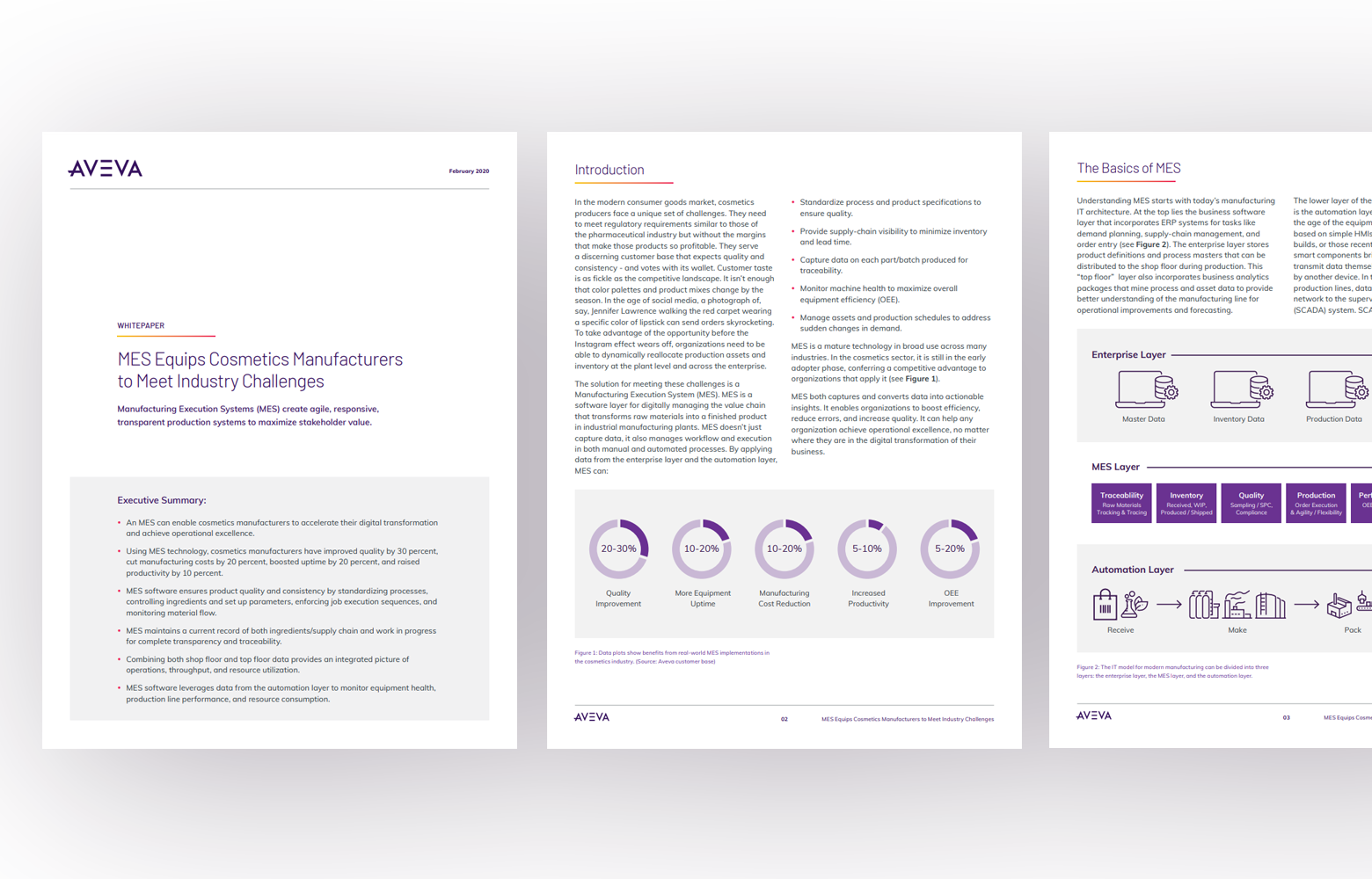 Additionally, these campaign resources were used in various email marketing workflows to spur more traction and leads.
The Results
While we created this content for a short-run ABM campaign, we ensured the content was evergreen to reuse these resources for any future campaigns. They're also live on their website for everyday visitors to stumble upon and read.
Specific results from the ABM campaign include:
Low bounce and exit rate on the blog post
2 SQLs from workflows
34 new contacts from various traffic sources
1,216 new sessions in a limited run
High views and clicks on CTAs
Love any of these ideas or the results? Reach out to talk about Lynton's creative services.