Want to attract more prospects and convert them to patients with your medical website? HubSpot can make it happen with resources and tools designed to save you time and make the most of your marketing investment.
HubSpot gives you the inside scoop on all things inbound marketing, from accelerating new patient appointments to staying current on the latest inbound marketing techniques. Their software helps you automate processes while maintaining a personal touch so you can connect with your patients and prospects intentionally. As you manage your online presence and develop a full inbound marketing cycle, you'll have everything you need to take your prospects from discovery of your practice all the way to becoming loyal, long-term patients.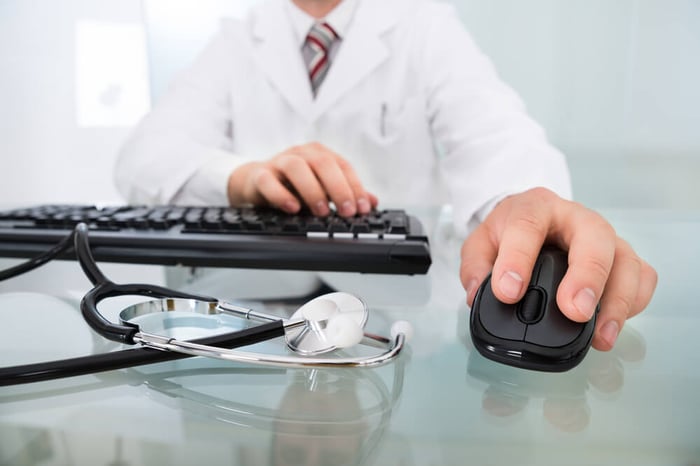 5 HubSpot Tools That Will Supercharge Your Medical Marketing Strategy
Whether you've never heard of HubSpot, you're considering it for your organization or you're already a seasoned user, take a look at these super tools and shortcuts that will get the job done faster and more effectively:
1. Keyword Tool
HubSpot's keyword tool gives you a leg up on your competitors with SEO data and insights, information about which keywords you rank for, and straightforward keyword research so you can rank for the most effective search terms. You can also see what your competitors rank for and plan your keyword strategy to optimize your on-page SEO and drive more traffic to your medical website.
The keyword tool gives you all the data you need in one place, and you can view the most important metrics at a glance on your customized dashboard.
2. Projects Tool
Streamline your marketing tasks and keep your team aligned on projects with the HubSpot Projects tool. Use the tool to plan campaigns, assign tasks, manage deliverables and due dates, and collaborate with team members. Individual users can see all their assigned tasks and due dates in one place and check them off when they've been completed.
The Projects tool makes it easy to manage current patient relationships and develop campaigns for reaching new patients online. It's a slam-dunk way to boost productivity for your medical marketing team and make sure nothing falls through the cracks.
3. Lead Generation Tools
In your medical practice, lead generation is really just the process of reaching out to prospective patients and establishing communication with them. The goal is to build a relationship that will ultimately result in new appointments.
HubSpot's lead generation tools make that process automatic and consistent by capturing data and tracking metrics in real time. When people click on your pricing page or submit a form, you'll know what information they explored on your website so you can follow up effectively. And the best part? You'll have all the information you need to turn those visitors into patients.
4. HubSpot CRM
Stay connected with patients and prospects throughout the entire marketing lifecycle with HubSpot's free CRM platform. This tool keeps tabs on all your contacts and makes it easier for your marketing team to manage communication campaigns. It eliminates the need for storing data in multiple places (email, spreadsheets, Post-It notes) and displays all your vital information in a single dashboard.
5. Calendar Tool
Save time and boost your productivity (not to mention your sanity) by organizing your content with HubSpot's Calendar tool. Schedule blog posts, emails, social media posts, and other content in one place and color code by campaign for at-a-glance planning.
Build Powerful, Authoritative Medical Websites With HubSpot
HubSpot is intentionally designed to make your inbound marketing strategy successful. Whether you're trying to develop a better email newsletter, convert more visitors to patients, or optimize the landing pages on your medical website, HubSpot makes your job easier and gives you the tools you need to be more effective at every stage of your marketing journey.
Do you have questions about how HubSpot can take your marketing strategy to the next level? Talk to our inbound marketing consultant and find out how to reach more patients with your medical website!