Gaining new customers is crucial for every business, but for medical software vendors, it's equally crucial to keep those customers hanging around. Success in the industry relies heavily on producing long-term customers that remain loyal to your company month after month, year after year. Keeping your eye on seven marketing metrics can help ensure your medical software marketing efforts continue to hit the mark.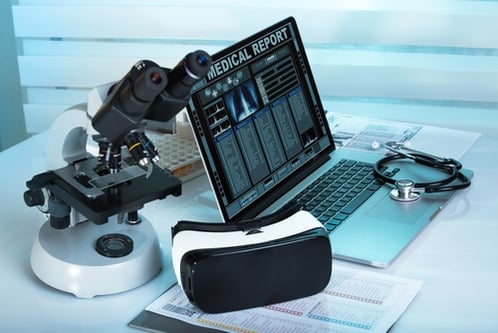 Number of Qualified Leads
One way to measure campaign success is by the leads it brings in, but it's not necessarily the overall number of leads that matters most. It's the percentage of those leads that are qualified that really counts.
Quality surpasses quantity when it comes to lead generation. A medical software marketing campaign can still be a success even if it doesn't bring in leads by the droves, as long as the leads that do come in are high-quality and ready to buy.
See Also: How to Connect with Your Medical Software Leads after a Tradeshow
Conversion Rate
While conversions used to refer solely to making a sale, it can now refer to a person taking any type of desired action, such as signing up for your mailing list or filling out a form to download an offer. The goal is to nurture each lead you receive to result in conversion, with each conversion building on the last to result in an ultimate sale.
If conversion rates are low, something is going wrong along the line. You may want to review your website design, unattractive offers or the quality of your leads. Keeping track of conversions helps you pinpoint which components on your site are performing well and which simply aren't working.
Time to Close
Time to close provides insight on how long it typically takes for a lead to become a customer. The rate can reflect the effectiveness and efficiency of your lead nurturing as well as your ability to draw in qualified leads in the first place. High-quality leads are prone to closing much more quickly than low-quality leads.
Customer Acquisition Cost
Knowing how much it costs to acquire a customer gives you a solid view of how effective your medical software marketing really is. Something needs a quick fix if the cost of acquiring customers significantly exceeds the revenue they eventually produce.
Gauge your customer acquisition cost by adding up all your marketing expenses, including overhead and salaries. Then divide the total by the number of new customers acquired during a given time period. For instance, if your marketing costs were $5,000 for a month that brought in 20 new customers, your customer acquisition cost for that month would be $250 per customer.
See Also: 8 Ways Inbound Marketing Can Promote Your Medical Software
Recurring Revenue
Because medical software companies tend to rely heavily on monthly and annual subscriptions, recurring revenue is an extremely important metric for your business. The goal here is to continuously grow your monthly recurring revenue to fuel the foundation that sustains your entire organization.
ROI
Return on investment (ROI) remains the most important metric across the board. This measurement shows you if the amount of revenue you're bringing in from your medical software marketing exceeds the amount you're investing in it. A high ROI indicates your initiatives are working well, while a low ROI means you may want to make some changes.
You have a variety of different ways to calculate ROI, and it's essential to find the method that works best for you.
While digital marketing creates an avalanche of data to review, the key is to keep an eye on the metrics that matter most to your bottom line. These seven metrics provide valuable information on the overall performance of your marketing efforts, letting you adjust them as needed to ultimately produce the highest ROI.