If you understand content marketing, you know that reaching patients online requires informative, valuable content. You've invested time, energy, and resources into developing and writing that content and you've hit the publish button.
But you're not done yet. Before you tackle the next item on your list, make sure you're putting that blog post or video in front of the right audience. Content has the power to increase brand awareness and patient engagement—but only if the right people see it.
The problem for many healthcare practitioners is that content distribution takes time. You may not have a dedicated IT department to handle posting and promoting, or your IT staff may already have too much on their plates. That means you need an efficient way to share your valuable online content without IT.
So what's the solution? How do you get your content out into the world and in front of current and potential patients?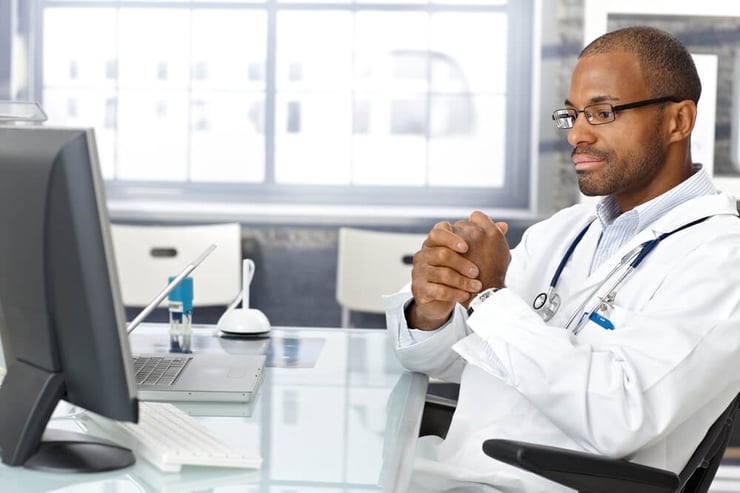 Plan Your Distribution Strategy for Online Content—Without IT
Let's look at four steps to developing a powerful content distribution strategy:
1. Establish Goals
Before you start creating accounts, take some time to write down your goals for each type of content. Start with questions like these:
Who is my audience? Create personas that pinpoint the demographics and preferences of your target audience. This information helps you tailor content to their needs and interests.
How do they interact the most? Millennial audiences tend to hang out on SnapChat and Twitter, while older audiences prefer Facebook. Professionals prefer LinkedIn and Pinterest appeals to female audiences. Some people prefer written content while others would rather watch a video. Find out which channel works best for the people you want to reach.
Am I writing to my own patients or another audience? There are two primary ways to distribute content: your own channels and someone else's. Your content may differ based on which audience you're writing to.
What action do I want the reader to take? Every piece of content should include a call to action. Decide whether you want the reader to like, share, click, sign up or download something.
2. Build a Robust, Flexible Website
Build your website as a flexible tool that you can update without relying on IT personnel. Follow these best practices:
Manage your website, optimize for SEO, and personalize content with a user-friendly Content Management System (CMS) like HubSpot.
Include essential resources such as an About page, physician directory, patient resources, and blog.
Focus on patient experience with engaging content, responsive design, and intuitive navigation.
3. Choose Distribution Channels
Next, decide where you want to focus your distribution efforts. Consider both internal channels (your email list, company social profiles, groups, and blog) and external channels (forums, communities, and guest posts):
Blog Posts—Promote blog posts on social media, distribute through your email newsletter, or condense into an e-book.
Social Media—LinkedIn, Facebook, Twitter, Instagram, and Youtube each appeal to different demographics. Revisit your patient personas to determine which channels will best reach your target audience. Use social media to distribute blog posts, videos, infographics, reports, webinars, and more.
Slideshare—Repurpose a blog post or other piece of content by sharing the main points in a slide show that links back to the full article.
Email—Use email to put your content in front of an engaged audience that already wants to hear from you. Showcase recent blog posts, announce a website update, showcase a new service offering, or talk about current special offers.
PPC and SEO—PPC campaigns and SEO strategy both use keywords to increase the visibility of your website. Use analytics tools to determine which keywords will achieve the best results.
Forums and Communities—External information-sharing resources like Quora, Medium, LinkedIn groups, and Facebook communities help you position yourself as a knowledgeable information resource. They also give you access to a broader audience.
Guest Posts—Build relationships with influencers in your field, and reach out to them about contributing to a post for your blog. You can also pitch article ideas to them to see if they will publish on their blog or social channels.
4. Think Offline
Share your online content in offline formats like brochures or fact sheets. Include the URL of your website or blog to drive offline traffic to your more robust online content. Always keep the majority of your valuable content online since that is where most people will search first.
Get the Right Message to the Right People
If content is king, distribution is queen. Excellent content that people never see isn't doing anything to help your practice. The good news is that you don't need a full IT staff to distribute your content online. By following these guidelines, you can create a straightforward process to put the right message in front of the right eyes.
And that's how you grow your practice.
Ready to ramp up your online presence? Set up your free consultation with one of our inbound marketing experts today!