Content is king. You've heard the phrase before, and there's a good reason. In the vast expanse of the Internet, content tells your patients what they need to know about your practice. But the best content does a lot more than that.
When you create content and use it strategically to attract, engage and convert a specific target audience, we call that content marketing. Your website, blog posts, videos, landing pages and other content are some of the best marketing tools you have at your disposal.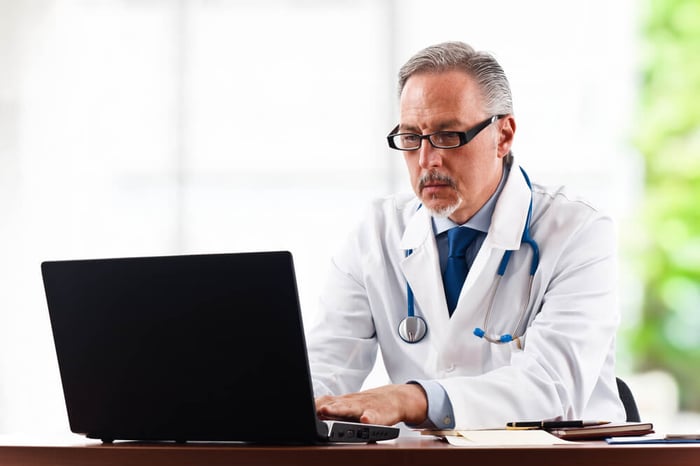 Here's how you can put them to work for your healthcare practice.
Attract More Qualified Patients With Content Marketing for Healthcare
People are tired of ads. They want content that provides value, answers questions, or addresses a pressing need. Effective content does all of those things, and the result is that you earn credibility and attract qualified patients to your healthcare practice.
Let's take a look at the seven keys to content marketing for healthcare.
1. Get to Know Your Patients
Before you even think about what you're going to write, you need to know who your audience is. Your patients don't all have the same needs, and neither do your website visitors. That's why a strong content marketing strategy should be built on patient personas. Patient personas identify the different kinds of people you want to reach and describe their common characteristics, interests, goals and challenges. You'll use this information to develop targeted content for each persona.
2. Write Down Your Goals
What do you want to accomplish with your content marketing strategy? Are you trying to drive more traffic to your website? Book more appointments? Promote a specific offer? Build your email list? Write these goals down and use them to plan the kinds of content you need to develop. You'll also want to identify website metrics that will tell you whether or not your strategy has been successful.
3. Choose Your Context
Content takes many different forms: blog posts, email, video, e-guides, webinars, infographics and more. You can use these different types of content in various contexts to accomplish specific goals. For example, you can use blog posts to create awareness of your practice on social media, drive traffic to your website, and increase your search engine rankings. If you want to build your email list, you may want to create a free resource such as an e-guide to encourage sign-ups.
4. Provide Value
It's no secret that people use the Internet to find answers to their questions. Great content helps people find you by giving them those answers in an engaging format. Learn what the needs and concerns of your patients are by examining popular pages on your website, studying search engine data, browsing social media, and talking to medical professionals. Look for common themes and create content campaigns that address those needs.
5. Choose Your Keywords
When we write online, we're not writing for our human readers only. We're also writing for search engines. Without an effective search engine optimization (SEO) strategy, your qualified patients will never find your content. Use keyword tools to find out what words and phrases your patients search for and build your strategy around them.
6. Talk About Them (Not You)
Now that you know the who and the what, it's time to talk about how to create your content. What should you talk about? The key here is to write for the patient, not for yourself. Don't use medical jargon or an overly academic tone. Instead, write for the mom who wants to know why her baby has a rash or the retiree who is concerned about signs of diabetes.
7. Spread the Word
SEO is a necessary part of your content strategy, but it's not enough to get your patients to your site. You also need a plan for making sure people know about new blog posts, videos and other resources. Use social media, your email newsletter, and paid ads to get more eyeballs on your content. Your patient personas will help with this step as well. Learn where your patients like to hang out and spread the word on those channels.
Why Content Marketing Works
Despite the many other marketing resources available to you, consistent, quality content is still the best way to engage your patients online. Content marketing produces more leads and conversions than traditional marketing—and it costs less.
Why?
Because people are tired of sales pitches. They want useful, valuable content that will answer their questions. When they find a reliable resource for the information they want, they'll keep coming back.
And that's why content is (still) king.
Are you ready to dig deeper into your content marketing strategy? Talk to one of our healthcare marketing consultants about your next step and download the Patient Engagement Toolkit to learn how to reach more of your ideal patients online!