Perhaps you've heard the term inbound marketing, but you're not really sure what it is, what it does or if you should consider it for your dental practice. We're here to tell you that you should because when it comes to growing your practice inbound marketing is key, and will provide a high-return investment over time. Allow us to explain!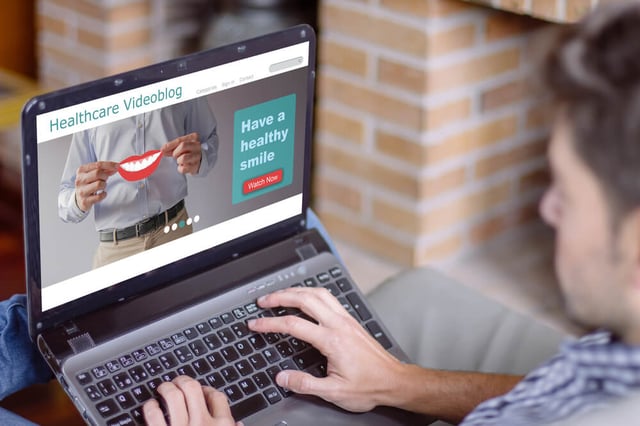 First, What is Inbound Marketing?
Inbound marketing is a methodology designed to attract customers through relevant, valuable content and interactions that are helpful, not disruptive. You are reaching potential customers through online mediums, such as: blogs, the search engines and social media. Creating great content is a key component of inbound marketing, and helps you to attract qualified leads, build trust and credibility for your practice.
How is Inbound Marketing Different From Outbound Marketing?
Great question! Simply put it's this:
Inbound marketing focuses on personalization and nurturing prospects (reaching the right audience, at the right time, with the right message).
vs.
Outbound marketing techniques generally include broader messages, are designed to speak to a wider audience and pushes products onto potential customers.
When you compare inbound to outbound there is a noticeable difference. Does one sound more effective and helpful than the other? If you guessed inbound, you're right! Since 2006, inbound marketing has proved to be more effective for doing business online. Instead of having to pay for advertisements, email lists and leads - while in the process hoping you're reaching the right audience - you now have the ability to engage and delight your target audience (your prospective and current clients), with quality messages they are actively seeking.
As a Dentist, How Can I Use Inbound to Market My Practice?
Whether you're trying to reach new patients, insurers, medical professionals or all of the above, the inbound marketing methodology can help you do just that.
Outbound tactics such as print and pay-per-click advertising rely on interruption to reach people. Rather than drawing people in, they try to place advertisements in places where new patients might notice them. Outbound-focused marketing often lacks a strategy for efficient website changes or SEO. Discovering new patients can be difficult because there is no solid plan in place for building a community of followers
Inbound marketing tactics, by contrast, focus on SEO, content creation, and content sharing by means of blogging and social media. Consider the return on investment (ROI) potential inbound strategies have for your marketing plan:
Average cost per lead drops by 80% in just five months
3x more leads per dollar as compared with traditional marketing
10x more effective for lead conversion
Average website conversion rate increases from 6% to 12%
The bottom line is this: we're living in a digital world where consumers can quickly access the information or resources they need in minutes. In order to effectively market your dental practice, you'll need to show up in the search engine results and have established a strong digital footprint. This means utilizing tools such as social media, content marketing, a responsive website and SEO to grow your practice and attract new clients. Allow us to help with this free inbound marketing checklist. This checklist will not only allow you to track your dental marketing campaigns, but also help you to:
Identify your audience;
Set up goals and benchmarks;
Build lead nurturing email workflows;
Identify keywords; and,
Track URLs.
When Can I Expect to See Results?


You know the popular saying, it's a marathon not a sprint? The same can be said of inbound marketing. With the right strategy and commitment in place you will see results, but it takes on average a solid six months to see true growth.

HubSpot has similar numbers, including:
4.10x more visitors per month within one year;
This is not to say you won't see some results initially (you probably will), but remember: your goal is to build a strong marketing funnel, and once you've done that you'll see your efforts continually build on one another for years to come.

For some additional inbound marketing benefits, check out our helpful post here. If you still have questions about inbound for your dental practice, or aren't sure where to start, contact one of our experts. We would love to help!