Imagine walking into a department store and seeing old, outdated displays that look like they haven't been changed since the last century. You see boxes and boxes of things stacked around the room, but nothing is labeled so you don't know where to find what you're looking for or who to ask. After a few minutes of glancing around, you walk out the door and never go back.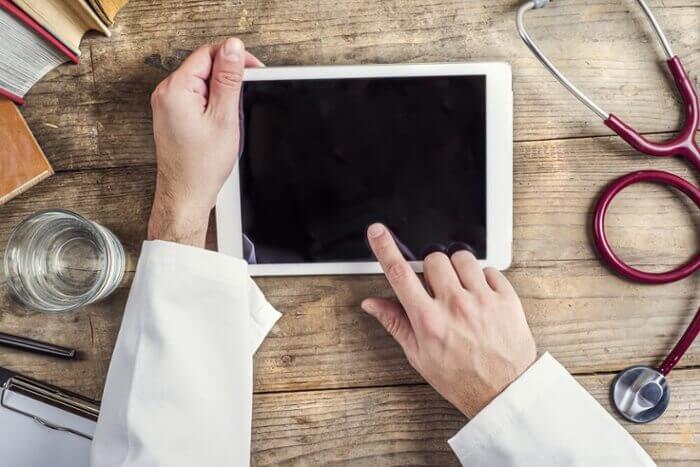 Sound like a shopping nightmare? That's exactly how your website visitors feel when they land on an outdated, poorly designed site. If you don't optimize your medical website pages with the right components, you can kiss your patients goodbye.
The good news is that it's not hard to bring your website up to speed. You just need the right elements and the know-how to put them together into a compelling design.
8 Key Components of an Effective Medical Website
Your website serves as the online face of your brand. That's why it's vital that you put your best foot forward with a professional site design. Here are 8 key components to turn your website into a lead-generating machine:
Quality Content. Your content is the key to drawing people in and giving them a reason to stick around. Invest in quality content—even if that means outsourcing—so you can make the most of your online real estate with compelling, persuasive headlines and copy.
Superior Images. Don't use cheesy stock photos to represent your brand. If you must use stock images, choose them carefully and make sure they communicate the tone you want. When possible, invest in custom photographs that showcase the people and culture that make your practice unique.
Compelling Offers . Your offer tells people how you can help them and gives them a reason to care. What can you do for them and why should they take the next action you want them to take?
Effective Calls to Action. What exactly do you want the visitor to do? Effective calls to action make an emotional appeal and tell the visitor what will happen when they click the button. For example, "Find My Doctor" is a much better call to action than "Search."
Landing Pages. Never send visitors directly to your home page from a paid ad or other call to action. Design specific landing pages for every offer to minimize distractions and keep visitors moving toward the conversion.
Blog. Your blog provides an essential connection both with prospects and current patients. Use it to provide useful information about topics of interest to your buyer personas. It's one of the best ways to keep people engaged with your site and give them reasons to come back.
About Us Page. Take advantage of the About Us page to tell patients what makes your practice unique. You can talk about the history of your practice, your mission, your goals, your patient promise, or anything else you think would help your patients connect with you. Remember to keep it concise, however, and don't spend too much time talking about yourself. Instead, find ways to connect your "About Us" information with benefit to your patients.
SSL Certificate. If you collect and store sensitive information through your website, you need an SSL certificate. Not only does it encrypt that information and keep it safe, but it also adds a layer of trust for your visitors.
Optimizing Your Medical Website Pages
Every page of your website has the potential to move visitors closer to conversion–or further away. Because your website serves as the hub of all your online activity, you need to make it a positive experience for every visitor.
If you need help incorporating these ideas on your website or starting over with a complete redesign, we can help. Talk to one of our healthcare marketing consultants about how to reach more patients, generate more leads, and book more appointments with your medical website.