As a healthcare provider or practitioner, we know your focus is on providing quality care for your patients. But, in order to do so, prospective patients have to know you exist. This is why creating an online presence for your practice is so critical. Home base for this online presence is your website, and just like your marketing materials and office aesthetics, your website needs to reflect your professional image and commitment to care.
Building a website from the ground up, or choosing to redesign your current site, is a lot of work. Not only is it a lot of work, but the pressure to stand out is paramount. Why? Because patients are more informed and engaged in their care than ever before. In fact, 80% of Internet users are specifically looking for health information, and nearly half are searching for information about a specific doctor or health professional.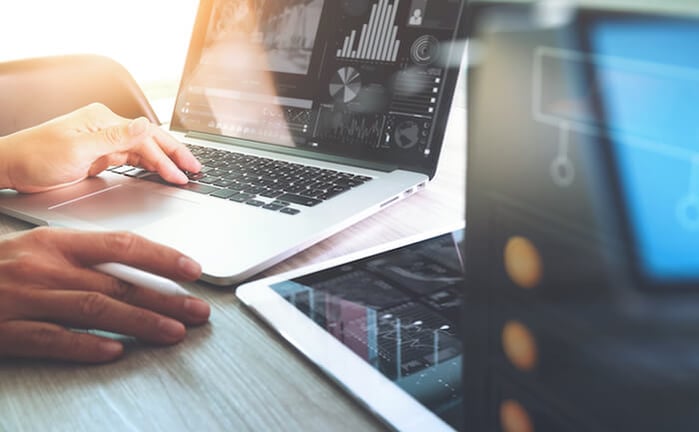 So how can you make sure your website is both functional and beautiful? How can you stand out?
Let's take a look at how working with a design agency could be the right fit for you.
The Expertise
Working with a design agency means you'll benefit from the expertise of multiple designers and developers. With that expertise comes a specialty in all things website design, meaning you get a one-of-a-kind, lead generating website. Because an agency offers a custom website design or redesign as a main service, there is a proven process that an in-house team or pre-fab templates just cannot provide. A great design team will not only bring experience and fresh ideas, but they should also understand that your website is so much more than a place for your patients to land. Rather, the goal is to help prospective patients move forward and take the next step.
A Proven Redesign Process
Considering a redesign for your website? A redesign is a big undertaking, with a lot of moving pieces and parts. Since many agencies offer website redesigns as a core service, the process has been refined.
At LyntonWeb, we have a proven redesign process used on more than 250 HubSpot and WordPress website launches. Our five phase process includes:
The Discovery Phase. In phase one, our goal is to thoroughly understand the specifics of your healthcare organization, so that your website can effectively communicate your goals. This phase includes the must-haves for your website, such as the pages, applications and functions, as well as the branding and needed content.
The Design Phase. The second phase focuses on the design elements for your website. We'll use your brand guidelines to design user-friendly templates/pages. Templates we will design for your review include the homepage, physician search, services, blog, landing page, about, etc.
The Content Development Phase. Effective content is critical to the success of any great website. Even if you have internal staff writing content, your agency should work in partnership with you to ensure you are utilizing the right keywords and phrases that will rank with the search engines.
The Template Development Phase. This is where we get into the technical specifics to produce the approved designed mockups into your website. Once the templates are built out, we'll work on on creating the individual pages of your website. This phase also includes testing and quality assurance, a critical step in this phase to ensure the templates appear perfect in different browsers and devices.
The Launch. The final phase focuses on the live launch of the website. We'll work with your IT team to have a seamless launch.
Custom Web Design
Many think a custom website design is too expensive or out of their budget. A custom site does come at a cost, but the benefits are impressive:
You get a unique design;
The site is built with persona targeting and SEO on the front-end;
Mobile and functionality are top priorities; and,
The support is built right in.
A custom site also gives you more options. Options like building out specific functionalities and design elements that will help you convert prospective patients at a higher rate. Last, but certainly not least, consider this significant perk: a custom design can save you money in the long run.
Long-Term Savings
What do we mean by long-term cost savings? Consider this: to maintain or build a website yourself most likely means you would need to hire someone internally, as well as invest time and money into learning all there is to build a beautiful, functioning website. Could you spend less upfront if you chose to design the site yourself? You probably could. But, if you go with a design agency, one that has the experience and expertise to help you build your dream site that will truly attract and convert patients, you make the investment one time and with the guarantee you'll like the end product the first time around.
Have you heard the old adage, time is money? This applies here. Just like quality care is your focus, your expertise, a design agency also has their focus, their expertise: to create a one-of-a-kind website tailored to your specific needs that produces results.
Curious about what a design agency could do for you? Contact one of our healthcare marketing experts; this is our wheelhouse, and we'd love to talk it through with you!