What is the single most important element of your digital healthcare marketing strategy? Is it your social media strategy? Your keywords? Maybe you focus heavily on identifying your target market and creating content they will find interesting.
Or maybe you're among the 50% of companies that have no defined strategy and you've fallen into a haphazard pattern of trial and error. If that's the case, all is not lost. The truth is that many healthcare organizations don't reach their full potential when it comes to digital marketing. The biggest gap we see in marketing strategy isn't missing out on a particular channel or choosing the wrong keywords. It's failing to establish a clear link between the business goals of your practice and your digital marketing strategy.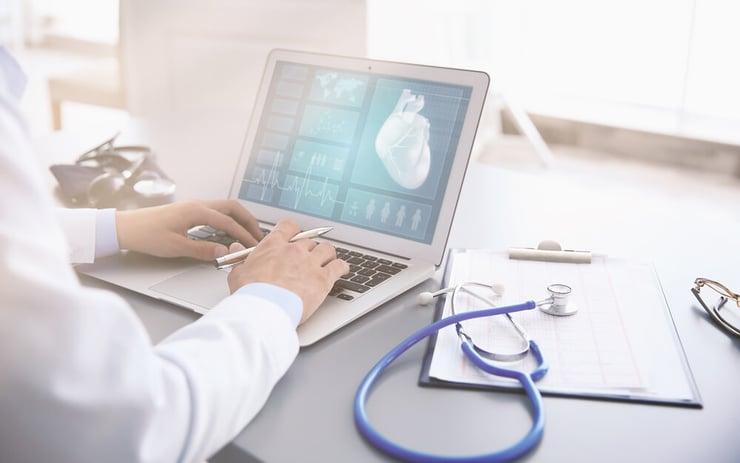 The Missing Element: Defining Your Healthcare Marketing Strategy Mission
Before you start evaluating individual digital components, it's vital to get clear on your mission. With your end goal in mind, optimizing key aspects of your marketing strategy will tie everything together so you're investing your budget effectively. Here's how to do it:
Define your "big picture" goals. What is the mission of your practice? Have you written out your mission statement? Effective mission statements focus on the needs of the patients rather than the needs of the practice. For example: Our mission is to improve the lives of patients by delivering quality healthcare and compassionate service in a nurturing environment.
Determine how digital marketing fits into that picture. Next, ask how your digital marketing efforts will help you achieve your mission. This will determine what kinds of content you should create and promote, as well as where your focus should be.
Evaluate your current efforts. Finally, take a close look at what you're already doing. Do your keywords, Facebook and Twitter posts, infographics, and website support the goals outlined in your mission? If not, how could you make them better?
Defining your mission will determine where you should invest your efforts, and that knowledge will provide a framework for evaluating the success of your strategy.
5 Ways to Optimize Your Digital Marketing Strategy
The next step in strengthening your digital marketing strategy is to evaluate and optimize the individual components. Let's take a look at five steps you for building a solid foundation:
#1: Get Management Support
Management buy-in for your strategy will be key to achieving results. But it's not always easy to persuade someone else to catch your enthusiasm. Before you submit a proposal, make sure you have clearly outlined your objectives, described your strategy for achieving those objectives, and presented a defined budget breakdown that ties into the overall marketing mission.
#2: Define Key Performance Indicators (KPIs)
How will you know if your efforts have been successful? KPIs give you targets to shoot for, including what you want to achieve and benchmarks for reaching that goal. For example: We want to increase site traffic in six months. Other digital marketing KPIs might include unique site visitors, social interactions, social mentions or shares, cost per lead, and conversion rates.
#3: Develop an Analytics Strategy
With your KPIs defined, you'll need a way to measure each one. Google Analytics, social media engagement tracking, and benchmarking reports are all ways to analyze success (or lack of it). The goal is to determine which strategies work well and which ones need to be tweaked for better results.
#4: Create Your Content Plan
Base content on the needs of your patients as defined in your buyer personas. It also pays to test which types of content perform best on different channels. Take the time to plan your content several weeks or even months in advance so you won't be scrambling to throw something together at the last minute.
#5: Build Dedicated Channels
Determine which platforms to include in your digital marketing campaigns and create a plan for implementing, tracking, and revising the strategy for each one. Your dedicated channels may include:
Website — Building a strong medical website should take top priority. Focus on patient experience with engaging content, mobile optimization, and responsive design.
Social Media — Evaluate your efforts on Twitter, Facebook, LinkedIn, Youtube, Instagram, and any other social channels you want to explore.
Organic Search —Define keywords, create content, and implement a targeted strategy to boost your search engine rankings.
SEO — Develop both technical SEO and content-based SEO strategies to improve site visibility.
Email — Use email to drive traffic, generate leads, educate new patients, and build credibility.
Other Components — Your digital marketing strategy may also include paid ads, webinars, videos, and other components.
Every successful digital marketing campaign requires both proactive planning and continual adjustments based on what you learn from your analytics. With that in mind, it's sometimes best to focus on just one or two channels at first, and then expand your efforts as you start seeing positive results.
Do you have questions about strengthening your digital marketing efforts? Comment below or contact us for a marketing consultation!