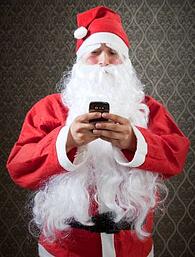 Year after year people vow to start their Christmas shopping early in order to avoid the chaos at the malls and more importantly, to avoid over spending on expensive, last minute gifts. To those that have already finished their shopping, congratulations! However, to all those that are still shopping, I have great news for you: you no longer have to let procrastination get the best of you.

Hundreds of businesses now offer discounts to consumers just for checking in on location-based services like Foursquare…and the deals have gotten hotter for the holidays. What do businesses get from it? Well, the idea is that users' friends see that they're checking in, giving the stores some exposure. That's social promotion and advertising that you can't buy!

If you are still unfamiliar with Foursquare, check out this intro from aboutfoursquare.com. Just make sure you don't spend too much time reading because Christmas is right around the corner and there is plenty of shopping to do!
Foursquare Discounts:
American Eagle - 15% discount

FYE – 40% off any USED video game, CD, or DVD

Radio Shack – 10% discount

Gap – 30% off 1 regular price item

Steve Madden - 20% discount off any purchase of $50 or more

Express - $30 Off $75 or $15 Off $30

Kate Spade New York - 15% off full-priced merchandise

Sports Authority - $10 instant Cash Card

Payless Shoe Source - $5 off of any $25 purchase

Office Depot - $10 off qualifying purchase of $25 or more (excludes technology)