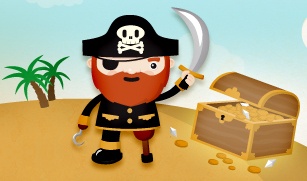 Ahoy, mates! In celebration of the second annual HubSpot User Group Summit (HUGS), LyntonWeb is giving away a boatload of free services to help businesses navigate the high seas of inbound marketing.
Now through September 30, 2011, visit visit the LyntonWeb Inbound Marketing Giveaway site to fill out one or more entry forms for your chance to win. LyntonWeb will choose the winners for each package based on the merit and content of the submission.
Inbound Marketing services up for grabs
Have fun choosing which packages you want to win. Pick the areas you think you need the most help with and tell us why we should pick you.
Content Strategy
We'll help you develop a strategy for your web content and blog. We'll write four blog posts, an online press release, and provide a content calendar to keep you on track for continued success.
Business Blog Makeover
Your company's blog serves as the best potential for new traffic and leads. We'll help you develop a conversion strategy for the blog to make sure those readers are converting into subscribers, leads and customers. We'll design a custom blog template to help position your brand as a thought leader. Lastly, we'll create a custom Call to Action button generator so you have an easy way to add CTAs at the end of every blog post.
Landing Page Success
Do you have compelling content and offers to give away on your landing pages? Great! How are you doing converting those landing page visitors to leads? Not so great? We can help with that. After a brainstorm and consultation session, we'll design a landing page template that grabs visitors' attention and drives them to convert. We'll also design a cover page template you can use for your ebooks. Generating leads couldn't be easier!
HubSpot-to-CRM Connector
LyntonWeb's CRM Connectors enable instant lead flow between HubSpot and your CRM. This is simply a must for any business running HubSpot Medium or Large edition. Supported CRMs include Microsoft Dynamics CRM, NetSuite, Infusionsoft, and Sugar Professional.
LyntonWeb is a Proud Sponsor of HUGS, the HubSpot User Group Summit
We will be at HUGS connecting with other HubSpot customers and learning about industry trends and strategies. We hope to see you there. It's a great chance to learn what's next in inbound marketing and HubSpot's software. For more information, and to register, visit the official HUGS website.
HUGS is a global gathering of inbound marketers in Boston, Massachussetts and takes place this year September 15-16, 2011. It is expected to have over 1,000 attendees, making it the largest ever summit of inbound marketers. HUGS promises to help you master the art of inbound marketing with keynote speakers and two full days of content delivered by expert inbound marketers who can show you how to make the most of your HubSpot tools and applications in order to generate more traffic, leads and sales. It's a great opportunity to gain insight from your marketing peers and hear about the latest trends and experiments. These are new ideas you can apply to your business!