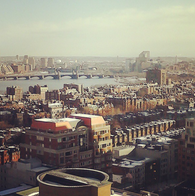 Well, hello there, fellow inbound marketing rock star. Hope you had a productive week. Welcome to our Enterprise Inbound Marketing weekly digest - the fastest way to stay up to date on everything inbound marketing. Key perspectives on inbound marketing and technology this week:
Spread Holiday Cheer All Year With Digital Marketing
Did you know there are over 150 holidays each year when you include religious, state, federal, international, and seasonal holidays - 40 percent of the year! That creates a lot of marketing opportunities that often seem to be missed. Here are three easy ways your business can incorporate holiday offers into their marketing program.
Forrester Digital Marketing Report
Forrester's latest report is worrisome for some advertising and social media practitioners. Here's the take away, according to Simon Bowthorpe:
---

Branded Content, SEO, SEM and Website Design specialists are going to be more in demand than ever, especially in Europe."
Branded (i.e. inbound) content continues to drive traffic and demand.
A video interview with a CEO is a valuable way to capture content for your enterprise inbound marketing efforts. You're speaking with the top person, maybe even the organization's founder, and definite visionary of the company. What can possibly go wrong, you're thinking. Quite a bit, unless you're highly prepared.
Onward and upward this week inbound marketing friend. Have a good one.