As a marketing strategist, I can't count the number of times I've received inquiries from potential clients looking for Search Engine Optimization (SEO) services because of a dip in traffic. It's unfortunately often become the default tactic for too many businesses. The reality is that SEO updates are just a tiny component of the comprehensive solution you'll need to fix declines in traffic. Especially as search evolves to yield more no-click results and changes with the influence of semantic search and topic clusters, applying SEO tactics must evolve into a complete solution to move the needle.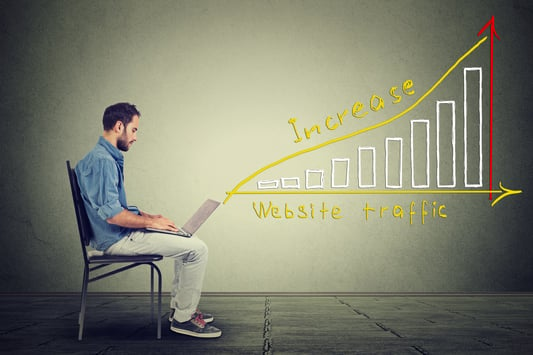 While SEO gets a lot of hype, possibly due to the mystery of search engines' algorithms, there are bigger and different questions you should ask if your traffic is declining. Here are three reasons that SEO updates alone aren't enough.
1.) Your Traffic Decline Might Not Be Related to Organic Search
As a busy marketing professional, it's easy to look at a dashboard and see a drop in traffic and then quickly draw conclusions. It's hard to dig into the metrics and make data-informed decisions about next steps. Before you assume a certain solution (like a new SEO strategy) is going to fix your traffic problem, ask yourself the following questions:
What channels have been impacted by the drop in traffic? Organic? Email? Referral? Paid? Social? Or others?
What is your best source of leads, despite traffic numbers?
Does your business have seasonal fluctuations in traffic and leads?
Does your industry have seasonal search patterns? (Google Trends is a great place to check)
Have you made any updates to your website since the decline? These might be as minor as new copy on a product page, a redirect, or as substantial as an overhaul of your design.
Have you completed a site migration that is causing pages to load more slowly?
Are there any specific topics in which you've seen your rankings drop?
Understanding the specificity of the traffic decrease is step one. Without that deep discovery, you can't remedy the digital problem. If your drop isn't related to organic traffic, then SEO updates aren't going to lead to traffic improvements. Moreover, if your highest quality leads don't come from organic, then a solution to boost organic probably isn't going to yield business results.
See Also: How to Analyze Your Website Traffic
2. Your Domain Authority Might be Staggeringly Low
No matter how many keywords you optimally place in meta descriptions and alt text tags you fix, if the domain authority or the perceived overall value of your site is low, SEO won't fix your organic traffic problem. Domain authority is a 0 to 100 scale that helps predict the ability of a specific domain to rank in search engine results, with a higher number favored in search results. No matter how optimized your content is, you simply can't rank in SERPs if your overall site has problems that impact your domain authority.
These potential problems include spammy backlinks, poor site content, or non-authoritative external links within your site pages. Once again, dig into the data and determine what might be affecting your authority. You can identify bad backlinks with tools offered in the Moz suite and fixed with a disavow request to Google. Experienced marketing copywriters provide optimized content, while an audit and update of your external links can yield measure improvements to your domain authority over time
3. You Aren't Frequently Publishing New Content
Search engines rank sites that are authorities on their subject matter. This is measured in a variety of ways and favors sites that are committed to fresh, engaging content. Organic growth with content, often through blogging, is a long-term growth strategy. In fact, a recent Forbes article reports that "once companies publish their 401st blog post, they experience a significant spike in traffic (about twice the traffic of companies that have a total of 301-400 posts on their sites)." Producing that quantity of content takes time, commitment, and creativity, yet it's instrumental to the success of your organic traffic results.
While SEO is still an essential component of improving organic traffic, it's a tactic within a broader strategy that includes:
Frequent publishing of high-quality, valuable content
Good user engagement as measured by time on page or number of pages per visit
Content that aligns with personas' pain points and challenges
Backlinks with higher domain authority than your site
External links that take readers to high-quality sites and content
Optimizing around topic clusters that include long-tail keywords
Alt text on images, keyword-rich headings, and easy-to-read site pages
In marketing, there is rarely a band-aid that will fix a problem as most of the time, these digital challenges aren't siloed. The marketing ecosystem is complex and relies on an interconnectivity of factors. Take a step back and brainstorm all the components that contribute to your marketing challenge to ensure you craft a comprehensive strategy that that will culminate into the business result you desire.
See Also: Inbound Content Strategy: Overcoming the Saturation Problem