As scary as it may sound, keeping your sales, marketing, and service teams in constant communication can make or break a business deal. To foster this kind of transparent relationship, companies use messaging apps like Microsoft Teams to stay in touch.
But many of these individual team members also spend a lot of time in CRM and marketing automation software like HubSpot. With these two systems running separately, vital messages about lead and customer activity could get lost, making it challenging to maintain real-time communication and align your teams.
However, that no longer has to be a concern with Lynton's Microsoft Teams Notifications Integration!
An Overview of The Integration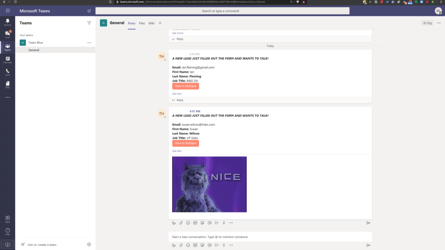 The Microsoft Teams Notifications Integration is an app that utilizes HubSpot's workflow automation to make it possible to instantly notify your marketing, sales, and service departments about recent HubSpot-related activity where they collaborate – Teams.
With the integration, you'll be able to add the action "Microsoft Team Notifications" to your HubSpot contact, company, deal, ticket, and quote workflows, so your users get automatically notified of important activities. In Teams, you'll be to see information related to the HubSpot workflow so users can respond accordingly.
What HubSpot Features Does the Integration Work With?
Your sales, marketing, and service team will all benefit from the Microsoft Teams Notifications Integration. The application integrates with:
CRM Hub – contact activity, conversational bots, tasks, ticketing
Marketing Hub – conversations inbox, forms, email, workflows
Sales Hub – workflows
Service Hub – workflows
Please note, to use the integration, you must have contacts and workflows permissions set up in your HubSpot portals.
What Are Some Examples of Use Cases?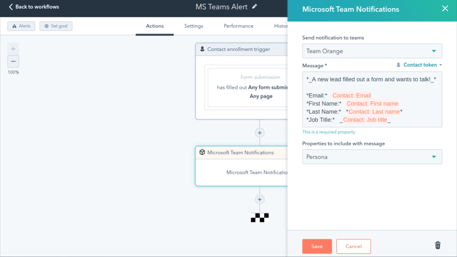 Using workflows, you can set up notifications and alerts to your team members or entire teams. With contact properties, you can be sure they get the details they need. For example, you could build a workflow that triggers a Microsoft Teams notification after someone communicates with your chatbot (if you have one). With property details, such as persona, your representative will get a better sense of who they're talking to.
Similarly, you can set up alerts when someone submits a form, opens an email multiple times, or downloads a gated piece of content. As noted, all notifications from HubSpot workflows are tracked in Teams so the appropriate people can respond, react, and work on essential messages or tasks.
How to Get Started
With more digital marketing tools at your fingertips, the ability to integrate them makes keeping your departments aligned easier than ever. If you're ready to set up Microsoft Teams Notifications for your HubSpot, check out these simple instructions here. Or for more information on the integration, reach out to us today!