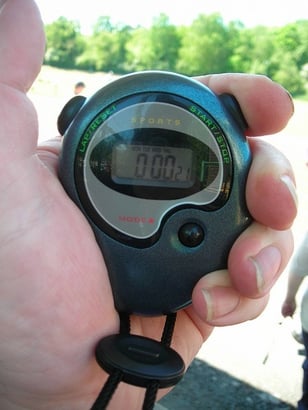 Writing a blog article can seem like a daunting task if you aren't in the habit of writing every day or even every week. So here are my 7 tips to not only make writing a blog easier, but to do it in 60 minutes or less.
1. Get your topic from your sales team.
Coming up with your topic can often be the hardest part of writing a blog article. You can avoid the anxiety of picking a bad topic by speaking with your sales or customer support team - the people who talk to potential and current customers.
Ask team members (in person if possible):
What are some frequently asked questions?
What are potential customers biggest objections?
What is some specific, positive feedback you hear?
You'll probably get a bunch of different ideas for blog articles. Pick one and get back to your desk to start putting together your blog.
2. Write down the goal of your blog article.
It's important to know what you want to teach the reader before you start writing. You can use this goal in your actual blog - in the intro and in the closing paragraph(s).
3. Create an outline.
Creating an outline can speed up the writing process. It allows you to organize your ideas, create a reader-friendly structure, and make sure you make your point (accomplish your goal). Your outline could be something as simple as a list with one or two words or it could be a list of long sentences, whichever you prefer.
4. Fill in your outline.
Now you're ready to starting writing. Think of it as filling in your outline. Elaborate on the points you have in your outline. Don't edit as you're writing. Just write. Get your thoughts down on paper.
5. Read it outloud and edit.
Once you've written your blog article, you'll need to edit it. Reading your blog article out loud makes your brain slow down, helping you find typos and grammatical errors. It can also help you edit your tone after hearing how it sounds out loud.
6. Come up with a title.
Now that it's written, you'll need a title for your blog article. I usually wait until the end to come up with my final blog title so I can tie in an analogy or story I use throughout the article. Make sure your title is 70 characters or less. And when in doubt, search online yourself for similar titles to avoid using the same title as your competitors.
7. Put it in your blog tool.
Writing always looks different in a word doc than it does on your actual blog. Plug it into your blog. You'll need to format your blog article to make it easier to read online. The following are some ways to quickly make your article more digestible:
Create subheaders if your blog article has long blocks of text
Bold important sentences in case readers are only skimming
Use lists or bullets to help make points quickly
Break up long paragraphs
Voila! Your blog article is complete. Don't forget to optimize it using best inbound marketing and SEO practices before publishing it. You'll want to:
Add an image (giving proper credit to the photographer). We like to use compfight.com to find images (plus it gives you the html code to add for proper credit).

Use an image alt-text that is related to your blog article. Don't use an image alt text like "clock" when your article is about writing a blog in 60 minutes or less. Instead use image alt text like "How to Write an Article on a Time Crunch."

Add internal links throughout your article to other related, interesting articles. The goal is to keep visitors on your site and to give additional resources in case your reader needs more background or specifics.

Add a Call-to-Action (CTA). Make sure you add a CTA for something else you have to offer. CTAs are often images that call the reader to do something, like download advanced content. Whether you use text or images, make sure the CTA is helpful to whoever is reading your article.

Write a meta description. Make sure you write a meta description that includes a keyword from your title, a call-to-action, and is 140 characters or less.
There you have it - all my tips written out and published for you in less than 60 minutes. And if after reading all of these tips you still don't feel comfortable writing, check out my blog article on 5 Easy Ways to Create Content (without writing).
Good luck and happy blogging!