About MRC And Their Decision to Keep Working With Us
Marturano Recreation Company (MRC), a leader in the park and playground equipment industry for over 40 years, came to the Lynton team in early 2021 seeking guidance on onboarding their new Marketing and Sales Hub accounts. Before working with them, MRC used a combination of MailChimp, a proprietary quoting and sales tool, and a shared HubSpot marketing portal.
We streamlined their HubSpot experience in a few months and efficiently trained their internal teams on the platforms. We also built some core HubSpot sales and marketing concepts like a detailed lead management strategy, a lead-qualifying chatbot, and the beginning of an exhaustive blogging and content strategy. The success of these — coupled with the trusting relationship with the Lynton team including account managers, strategists, designers, and copywriters — made it clear to MRC to continue our relationship.
Read more: MRC Partners with Lynton for HubSpot Marketing Hub Success
The Solutions
Thanks to the hard work of Lynton's onboarding team, it was simple to build upon their work and decide where to go next in our roadmap. Some of the ideas that came to fruition in the second half of 2021 and into 2022 include:
Extensive Keyword Research and New Blog Calendar
Before even thinking about writing a new blog, webpage, or premium piece of content, we conducted our flagship SEO audit. We looked closely at what keywords MRC currently ranked for and the low-hanging fruit they could take advantage of.
Additionally, we examined their competitors and where they stood in search rankings. Ultimately, we had enough research to inform a blogging and content strategy, including elements like:
New topics could we rank for
Blogs we could consolidate
Keywords that weren't worth going after
Keywords or ideas to utilize for other content, like pillar pages
Content calendar and what H2s and H3s to use
The best resources to use to create and update content
Which CTAs were most effective for different kinds of posts
And the results have left MRC pleased. According to Director of Marketing and Communications Matt Miller, "We're publishing new blogs and articles two times per month and are seeing organic traffic beginning to spike on these new pieces of content."
A Thorough Product Interest Workflow
Part of any good relationship is showing genuine interest in learning about one another. When suggesting the idea of a "product interest nurture workflow," our team displayed this. By engaging in this workflow, Senior Marketing Account Manager for Lynton, Sara Sprenger, and the rest of the team actively studied MRC's different products while focusing on what would be the best for MRC's various customers.
We gained a better understanding of MRC, allowing us to create an email campaign that divided contacts by detailed logic and served content that would resonate with them.
This workflow nurtured contacts with top-of-the-funnel, middle-of-the-funnel, and bottom-of-the-funnel content to warm contacts up and prep them for sales. The workflow divided users into different "paths" or campaigns:
General MRC content
Traditional playground
Studio playground
Safety surfacing
Streetscape
Classic park
Sports
Each path had different enrollment triggers to start the lead nurturing process. For example, those in the traditional playground path started receiving content when:
"Page seen is traditional playground-related"
"Blog seen is traditional playground-related"
"Lifecycle stage is not customer, opportunity, or SQL"
Other factors would determine where they would begin in the lead nurture. The general flow consisted of the following emails:
Introduction
MRC expertise
Blogs
Product overview
Quotes
Design details
Booking a meeting
Follow-up
Every path issued different content for each of these emails. If no criteria were met other than being a subscriber, the contact entered the general campaign path and received high-level content. The intricate detail of the campaign was worth it, with both teams pleased with the camaraderie and results.
Hyper-Focused Pillar Pages
Inclusive playgrounds — spaces that allow children of all ages and abilities to come together — and safety surfacing are two of the hottest topics in the commercial playground industry and specialties of MRC. Rather than write a simple blog or two about these concepts, we determined creating pillar pages to position MRC as a leader on these topics was more impactful. After research, interviews with the MRC team, and internal collaboration, we published:
In the past, MRC had one short webpage for each, with links to product catalogs. Now, their pillar pages house deep research on the topic with numerous anchor links to catalogs, other content, graphs, and more.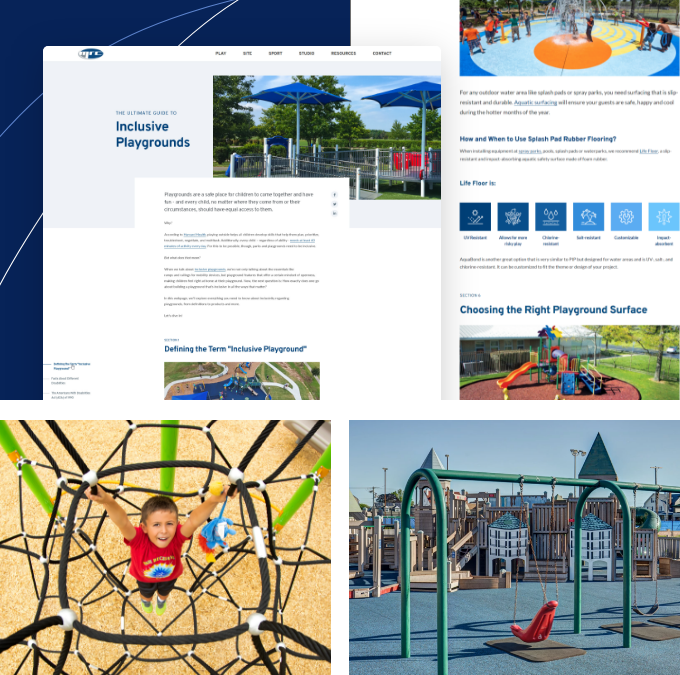 During the process of each pillar page, we reinforced our aptitude for learning about the company. Elizabeth Sankey, an MRC sales and marketing department member, noted, "The quality and content in our blogs and other written pieces improved ten-fold from what our previous marketing agency was producing. While copy editing their writing, it was clear that they were actively learning about our industry and how to write the best content for it."
Continued PPC Optimizations
The advertising tool in HubSpot is powerful, and MRC wanted to capitalize on it. When initially onboarding, we created different ad groups with highly-targeted Google ad language and built custom landing pages for each. We used details from our keyword research to zero in on the best groups to target first, ultimately creating 12 ad groups with different ad copy variations. We closely monitored — and still do! — the performance and make optimizations as needed. We specifically look at:
Updating the copy to be more compelling
Highlighting the unique benefits of MRC's products
Using different CTAs
Making them specific and concise
Using a variety of Google ad types, including search and display
This has resulted in some impressive stats, including a few deals that lead to much-needed play spaces for communities.
Updates to the Website
As anyone in the digital marketing world knows, website design and development trends change quickly. The MRC team recognized that sections of their website could be easier to navigate, which would also help their visitors find and read the content they wanted most. Our team assisted in reworking their product catalogs and downloadable resource center into a clean, easy-to-use interface.
Previously, MRC linked customers to Flipsnack, their digital catalog viewing provider, taking the risk that a customer may go to Flipsnack and bounce off MRC's site completely.
When customers view a catalog on the website now, they are taken to a landing page with an embedded catalog, where they can click back to the primary listing when they're ready to browse other catalogs. The result of this is a more enjoyable experience for the web visitor and, in turn, an increase in visitor duration on the website. Other edits to the website have included making CTAs more prominent and focusing their messaging on how they can help.
What's Next for MRC and Lynton
MRC was particularly enamored with the website optimizations we provided and plans to revamp their homepage next. They currently view their homepage as overly product-focused instead of demonstrating the many ways their expertise can support customers throughout their project design and installation. Rather than focusing on the vast product offering, the goal of the upcoming redesign is to portray MRC as the leader in the park and playground design industry, proving their history and project portfolio true.
Our almost two years of partnership have both teams excited to reflect on what we've accomplished and tackle these future initiatives. Based on the MRC's feelings, it shouldn't be an issue. Take a look at what they have to say about what we've done so far: