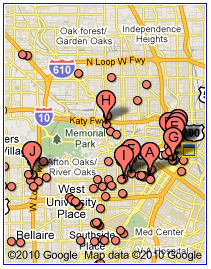 With an estimated 77% of Americans using the Internet on a regular basis, a business would be remiss if it didn't have a web site to draw in all those potential customers. But with millions upon millions of competing companies in America, the struggle to stand out amongst the crowd is a tough one to overcome. The biggest marketing tactic overlooked by small businesses on the web -- neglecting their local market.
Realization #1: You're not one of the big guys … and pretending you are only hurts your chances for success.
A small-town mechanic or boutique owner is not the same as a Toyota dealership or Nordstrom … not in sales, not in staff, and not in scalability. And that's okay! Many Americans don't want to deal with the big nationwide chains, because they don't want to become just another face in the crowd. A lot of us actually prefer the personal touch of local businesses run by people who remember our names and who thank us for giving them our business.
Realization #2: Creating a local presence for your company on the web can help you be successful.
Copying the marketing techniques (and budgets) of a major company is a huge mistake that smaller businesses often make. Simply creating a web site and not tailoring it to your local market means that your market won't be able to find you among millions of online competitors. So how do you get the word out locally without a "big-box" budget?
A few basic tips for improving your local search rankings:
Optimize your web site for your location(s). Located in Denver? Tell people on your web site by adding "Denver" to your textual content, including your page titles, headers, links, and Meta descriptions. Have more than one location? Optimizing sub-pages (or, better yet, sub-domains) for separate locations (e.g. Colorado Springs) helps you reach all the localities you serve. And don't forget to list any and all physical addresses related to your company – people need to know how to find you, after all!
Submit your web site to local directories. Let's be honest -- most of us haven't used a phone book in years. However, local online directories have made it simple for consumers to find products and services they need in their own home towns. There are tons of local directories on which to list your web site, but don't forget these: Google Maps, Yahoo! Local, Yelp, Local.com, and Bing Local. Many of these sites are free, so the more the merrier!
Utilize your blog, write press releases, and promote! Google loves new content and favors web sites that are continuously updated. So, naturally, if you blog on a regular basis and announce your events, news, and other happenings at your company through press releases, you're making Google very happy and giving yourself more local exposure at the same time. Win-win.
In case you're not sold yet … earlier this year, Google announced that
20% of all Internet searches placed on the Google search engine are related to local search
. Just consider the hundreds of millions of searches that occur every day, and then think about the amount of traffic to your site you could be missing out on if local online advertising isn't part of your game plan. When you appreciate who your target market truly is, you take a big step toward narrowing your marketing focus and increasing your conversion rates.