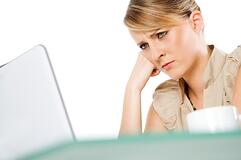 Ah, the landing page – quite possibly the most confounding element of a web marketing project. So many elements have to come together to create a clear message and course of action for users to take. While landing pages vary greatly in scope and message, several tenets hold true for them all. Here are a few of the most common (and annoying) landing page mistakes marketers make:
Videos set to auto-play
Landing on a web page only to be greeted by blaring background music or an automatically-running video is annoying enough that many of us immediately hit the back button to exit the site. Aside from scaring users half to death, a video on auto-play is a guaranteed distraction from the main focus of your landing page. Let users decide whether or not they want to view your video. If the message of your landing page is coming through clearly, rest assured, they'll watch it.
Lackluster content
The old adage in online marketing is that "content is king." While this still rings true, inundating users with verbose text is a major turn-off. Want to really bore your users? Try lots of technical content. Not only will your audience have a lot to read through, but they'll be confused as well. The purpose of a landing page is to grab a quick lead -- not to educate visitors on the intricacies of your offerings. Users don't need to know every detail about your company and your services. They just need that initial push through the door, and then you can sell them on the rest of your business.
No images
Images play a big role in helping convert a visitor into a lead. They provide visuals of what you offer, character representations of your target market, and an emotional connection to the user's need for your product. All the text in the world can't make up for that.
No call-to-action
Undoubtedly the most important aspect of your landing page is your call-to-action. In short, the call-to-action (CTA) is what you want users to do on your landing page. Perhaps you want them to sign up for a newsletter, request a consultation, or take part in a sale or other promotion. Your CTA is a clearly-defined action, and your landing page's goal is to convince users to carry out that action.
Lack of focus
Trying to do accomplish too much is another great way to confuse your visitors. Attempting to market multiple services or promotions on one page will make your visitors second-guess why they landed on that page to begin with, and you're likely to lose them for good. Have multiple CTAs to promote? Simple solution: create multiple landing pages!
Pop-ups
It's almost 2011. Must we really go over this? Pop-up ads, whether yours or a paid sponsor's, are frustrating, distracting, and archaic – and a lesson worth repeating.

Landing pages with high bounce rates typically have low conversion rates. So, it's within your best interest to work at keeping your bounce rate as low as possible. An effective landing page that focuses on one simple goal is a great way to ensure your online success.