Everyone likes music. It's an art form. Website design is also an art form. So wouldn't it makes sense then that music websites should look pretty amazing? Here are 10 music websites that ROCK!
Chris Cornell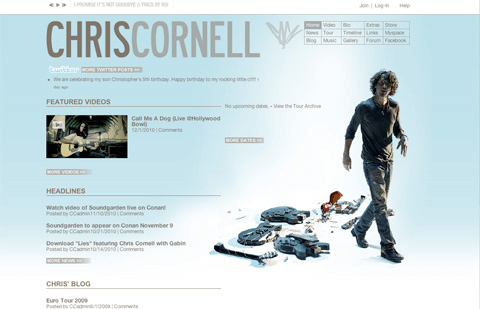 Chris Cornell, the Soundgarden singer has enjoyed a pretty solid solo career. The image on the right with the smashed guitar is very rock. If you go to the site, you'll see it animates, which is pretty cool. There is also a Twitter feed right on top which is a great way to keep people up to date with the latest news.
Death Cab For Cutie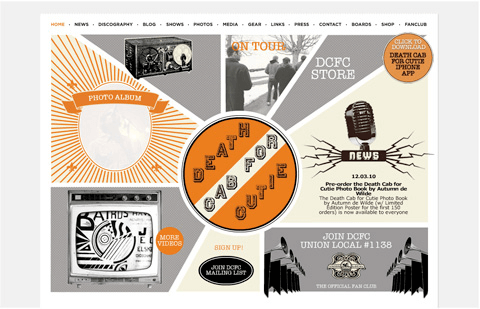 Death Cab for Cutie have a centered design that isn't seen too often. The graphics and color scheme compliment each other well. The navigation on top makes it easy to find where you want to go. The homepage also features some good call to actions with the store section featured on the top right, a button for an iPhone app, and one to join their mailing list.
Beta Clan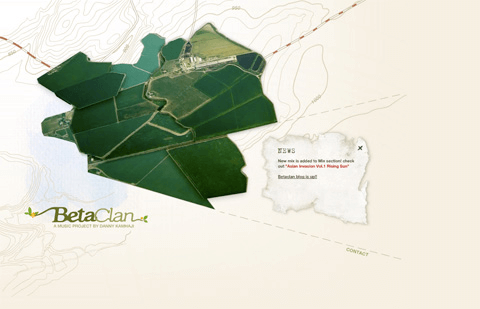 Beta Clan is a "music project" and not a band, but nonetheless, this is a creative design. The graphic on the left looks like puzzle pieces from some countryside land, but when you rollover them, they are actually the navigation for the site! Pretty neat.
Francesca Battistelli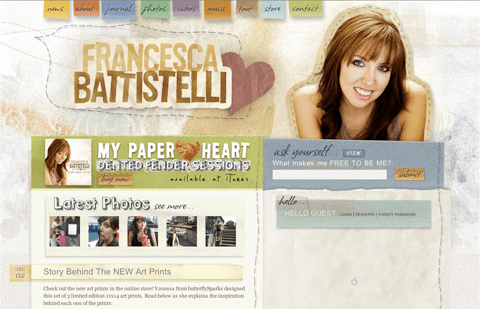 The organic feel to Francesca Battistelli's website is done well. The tabs on the top have a creative design, and the cut out graphics and fonts give this site a cool feel. The option to buy the album is right there under the header, which is where most people will see it.
Land of Broken Hearts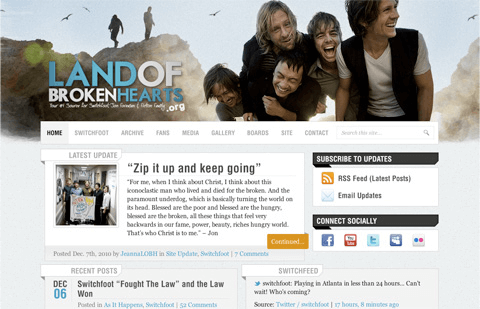 Land of Broken Hearts is a fan site for the pop/rock band Switchfoot. They recently redesigned the site, and did a great job! The top image is upbeat, and the layout below is clean with nice graphical elements for the headers. They also feature their social media icons above the fold for easy access, as well as an RSS feed button and one for e-mail updates.
Bristol Archive Records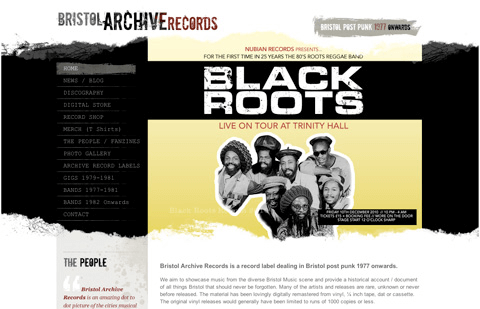 Bristol Archive Records has a grungy feel with how it breaks up the straight lines. If you go to the site and scroll down to the footer, you'll see that this design is carried down there as well. Very creative, and a good way to tie a site together.
Hanson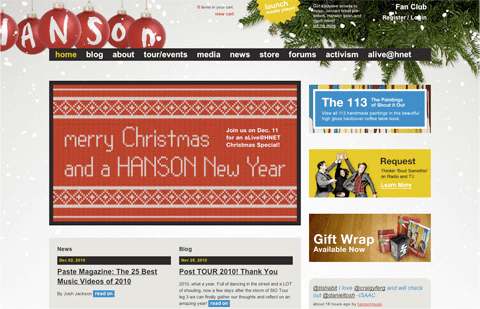 MMMBop! Believe it or not, Hanson is still rockin'. The site's header is all decked out for the holidays, which is a nice touch. The only problem is that their name gets chopped off on the top if the browser window isn't wide enough. On the side, they have their latest Tweet, which is a nice feature to have.
AC/DC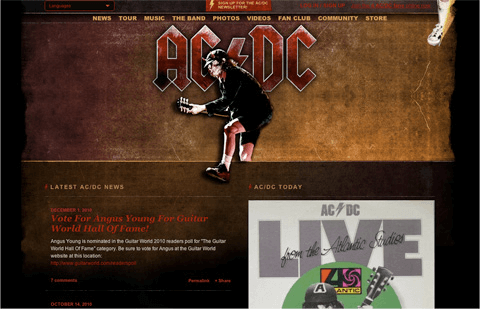 Finally, who doesn't like some AC/DC? Their website definitely gives you a feel for their music, complete with Angus Young's signature look front and center. Even though the design has a grungy looking background, the layout is clean and easy to navigate.
Of course there are a ton more great music sites out there. What are some of your favorites?