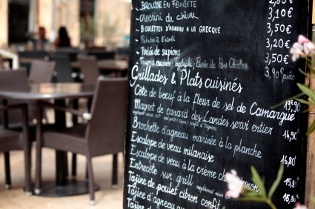 Most of us at LyntonWeb love to go out to eat. We're always looking for a new restaurant in Houston, whether it's a five-star restaurant or a hole-in-the-wall burger joint. But one thing that always sticks out to us is all the restaurant websites out there that need serious help with design, layout, and flow. We understand that in the restaurant industry, the food, menu, and dining room are most important, but that doesn't mean your online presence should take a back seat.
There are a lot of restaurant websites out there that make you unsure if you even want to try their food. A new Tumblr blog that hits this point over the head to a hilarious end has recently popped up.
All jokes aside, though, there are a few easy things that a restaurant's website can do to instantly make it easier to navigate and become more marketable.
Remove the Flash Intro ...
... and while you're at it, remove Flash from your entire website.
Flash is really good at getting in the way of great websites. Flash can look good, but it keeps people (not to mention search engines) from the most important element: the content. And there is that pesky problem about mobile phones and Flash ...
Ever since the iPhone came out and didn't support it, Flash instantly became the red-headed step-child of the internet. Flash is a dinosaur, and the internet is moving forward without it.
Imagine you are out on a Saturday afternoon running errands when the hunger hits you. You've been out all day, and you're a long way from home, and you're not entirely sure what is around and where you should go to eat. You pull out your smartphone and search the area of town you are in and start browsing websites. But what happens to all those sites that have Flash? You can't browse them to check out the location and menu.
Now flip the situation. That is your website ... and your lost revenue.
Hours and Location
I mentioned this in my last point, and this ties in with mobile users as well as users browsing on their computers.
There is nothing more frustrating than finding a restaurant you want to go to, but you can't find the restaurant's location or contact information on the site (of course, this is not unique to restaurants).
Where should this information be? That's easy. It should be in the "courtesy area" (top right corner) of your website on every page. This way, no matter what page of your site a user is on, your location(s) will always be one quick click away. Your website should make it painfully easy to find your location, and you should even have an embedded Google map, so people can easily get directions. This should be a no-brainer.
The Menu
Like your location, your menu needs to be as accessible as possible to users on your website.
This is the big one. Your menu is one of the main reasons people visit your restaurant's site. But that's not the only thing you should worry about. A lot of restaurants will break their menus up into breakfast / brunch, lunch, dinner, and appetizer pages. This is a bad idea for a number of reasons. First off, it makes sharing the menu harder if users are trying to decide where to go out with a group of friends. Secondly, it makes a whole lot more work for you when you go to update your menu.
As for the design of your menu, your best bet is to keep it simple. Having a menu made in Flash is frustrating for all the reasons we previously discussed. Keeping your menu stylish, but simple, ensures that it is easy to access on multiple platforms, and it puts your delicious food front and center.
Ambiance
Make sure that the ambiance of your restaurant is mirrored on your website.
This may not be as easy as the three previous items, but it is equally as important. If your restaurant is a sport's bar and grill, your website should not look like a 5-star steakhouse or vice versa. If I am going somewhere for the first time, I should be able to tell from your site how I need to dress and what kind of experience I will be having.
These are three simple areas (and one more difficult task) to improve your restaurant's website. As with any business website, you need to realize that your website may be the first interaction that a person has with you and your brand. Be sure to do everything possible to put your best on the front line.