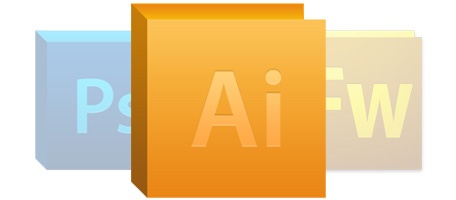 Recently, we wrote about which program is better for web design - Adobe Photoshop or Adobe Fireworks. But yet another program that you can design web sites in is Adobe Illustrator. This application is usually used for print and creating things like logos, because it is vector-based (this means it can be resized to any size and still look good). I came across this article at Smashing Magazine recently that says that Illustrator may be better for some design tasks for the web. Here are a few reasons why:
Faster Designs
Illustrator makes it easy to click on an object and change it in any way just with your mouse. You can also make sure your design is lined up perfectly using Illustrator's precise adjustments for dimension and position, which Photoshop and Fireworks don't have.
Quickly Create Wireframes
Because Illustrator uses vectors, you can make boxes and lines for a wireframe quickly. You can also save a library of elements or symbols that can be used multiple times in the document. It's like having your own wireframe and design programs rolled into one!
Easily Format Text
Illustrator has tools that allow you to save character and paragraph styles, which make it a lot easier to reapply these styles throughout your design. You can make changes to the style right in this panel, and it will update all the text that uses this style.
Good for Clean Graphics
While Photoshop is great for more complex graphics, Illustrator is great for designing clean and simple graphics. It's also easier in Illustrator to edit shapes, like changing the roundness of a button. In the same way you can save styles for text, you can do the same for shapes, making the process of keeping design elements a lot quicker.
Takes up Less Space
Finally, vector images are smaller than rasterized images. This means that the images and files will load faster than they would in Photoshop or Fireworks. This is good both when you're working on the website design and for the load time of your website online.
For the complete, in-depth report, read the full article here.