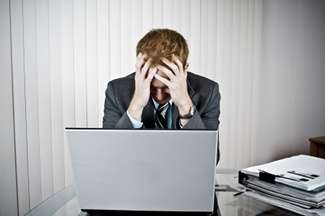 Mistakes, glitches, server outages, and "this-funky-little-character-has-shown-up" situations happen. When troubleshooting website issues, a quick solution is paramount.
Here are some key elements to consider when working to resolve website issues quickly:
Detail the Problem
First things first – it's important to be specific when identifying errors. Ask yourself:
What is the intended experience supposed to be?
What page(s) of the website is experiencing the issue?
What browser(s) is the issue being experienced in?
When was the problem first experienced?
Is there a specific, isolated user behavior that causes the issue?
Build a History
Second, it is important to identify what might have caused the error. Ask yourself:
When was the last time the page(s) in question was modified?
Do you rely on third-party content or hosting providers that may have experienced down-time or scripting errors?
With this information in place, your web team should be able to diagnose and resolve the issue. Upon rectifying the error, it is ideal that you both consult with your team to see what procedural or code changes can prevent the error in the future and build a case record so the issue may be resolved quickly if it arises again.
Know Your Data Sources
Knowing your web system, protocol, and data sources will help you control the website program. Here are some recommended items to have on-hand for easy troubleshooting in the future:
Website error protocol with web team
Up-to-date information architecture and system diagram
Logins for any analytics packages, email inboxes receiving leads, hosting providers, merchant accounts, CMS and CRM systems
API and third-party setup contacts' information
Stage website links and supporting databases
Do you need to upgrade your website protocol or find a web team? Contact us for a consultation.
Already a LyntonWeb customer and have a website error you want to discuss? Email support@lyntonweb.com, and we'll get back to you on the very same business day with a solution.