Online research projects often get tabled for projects that have more tangible deliverables. However these online research tactics can actually save you money on that next big project! Here are some ways to save money by using online research before or in collaboration with your online marketing program:
Persona Development
Personas allow you to better identify with your core group of users. Typical persona profiles will include: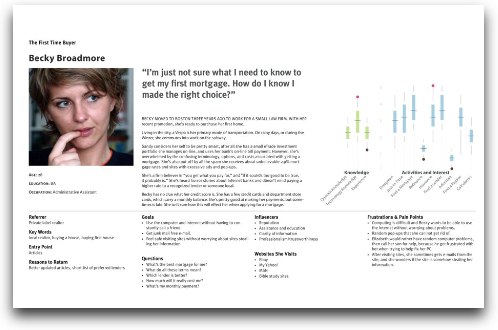 a short-hand name
sample biography
pain points with your industry's product or service
online usage information
customer life cycles and media use as it relates to your product or service
How they work: A combination of stakeholder, user interviews, data and existing research uncover common traits that are organized into profiles relevant for your audience
How they save you money: Personas allow internal and external parties to focus on the user's needs rather than tools that will recognize little benefit to your core users. They may also uncover hidden opportunities to further engage with the personas that are most profitable.
Site Optimizations
Site optimizations, executed through A/B or multivariate testing with variations of your website, are a powerful tool to use for creating the best user experience possible for your website visitors.
How they work: Server-side scripts or tools like Google Website Optimizer or Optimizely will split incoming traffic to variations of a landing page. After a set period of time, conversion rates are analyzed to see if statistically significant differences in conversion rates are present between the versions.
How they save you money: Resolve internal debates quickly with data-driven results and convert more of your valuable traffic!
Usability Testing
Usability testing is the web-based sister of the focus group. It's great for getting feedback and, when designed properly, can provide invaluable insights for website improvements.
How they work: Remote or in-house users perform scenarios on your website, providing feedback along the way about their experience. Some tools allow you to record screens, capture eye and mouse movement and test prototype websites. Upon completion with a set of user trends including pain points, recommended improvements and suggestions are collected for analysis and prioritization.
How they save you money: Similar to the above-mentioned research tactics, a usability study promotes website improvements and ideas that are most beneficial to your actual users. You can also quickly identify problems that are driving down your current conversion rate and discouraging your loyal consumers.
Benchmarking Surveys
Surveys, if carefully designed, can provide valuable self-reported user feedback to enhance your website's experience. When the responses are tracked over time, trending information can add depth and value to your current analytics for an online marketing program.
How they work: A website survey presented upon exit to your website or blasted through email can collect basic information about your users. The key is to focus on questions directly related to your objectives and keep it short. Try a survey for concept testing an ad campaign before it releases.
How they save you money: Website surveys can be a cost-effective way to gauge customer satisfaction. Also you can avoid putting out another costly online marketing campaign that doesn't truly appeal to your audience.
Do you need to utilize some online research to improve your online marketing program? Contact us for a consultation.
Image courtesy of Message First