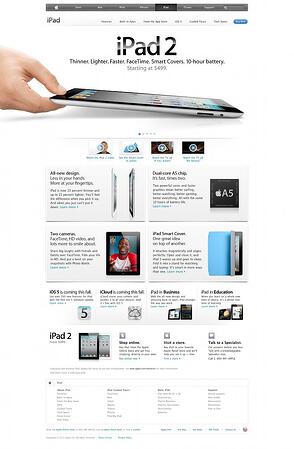 As 2011 is reaching its midpoint, some interesting online trends are emerging. The use of the social web is a prominent staple in everyone's online activity as increasingly more blogs, social apps, and mobile apps have taken shape. With all the expansion of the mobile and social web, design is more important than ever, and as it evolves to take on new shapes and forms, there is one emerging design trend that may just be here to stay: the no-fold.
When blogs began to enter the online space in 2005, many people "in the know" were excited to have the ability to write and post their own content online. The blogging world has flourished over the past few years into a full-blown culture. Everyone from your neighbor to your favorite Fortune 500 company has jumped on board the blog train.
The learned behavior of interacting with a blog page has also changed how we read and view online content, or dare I say, expect to. We have seen an adoption of the extended content, "fold-less" blog design begin to morph into a full-blown design technique and style. This new blog structure has conditioned users to look past the fold for more content whereas previously, we were told users would not be scrolling on our webpages. More content and information is now expected below the "fold," resulting in more real estate for more engaging content.
Along with fold-less design, website content itself has also undergone a shift in a new direction. Less type is now more, as we begin to see large graphic elements being used instead of plain ol' text to express communication and calls-to-action. These two elements combined are giving designers more exciting work and a much-needed move away from traditional, lackluster brochure sites.
Why the change?
No matter what decade we're in, improvements in technology always affect how we do things. Larger screen sizes and higher screen resolutions allow for more space on a webpage and more opportunities to deliver larger design concepts. As we move forward we will also begin to see more full-screen design concepts that once again go past the fold to deliver richer, more engaging content than ever before. The death of the "fold" is here!
Is your website stuck in 2005 or, worse, 1995? Check out our portfolio to see how we've brought some of our clients' websites out of the Dark Ages, and contact us to get started on your own custom website redesign.