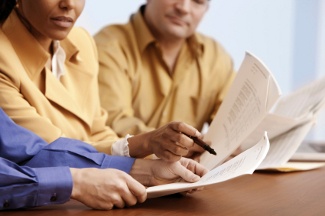 As a project manager for website redesigns, CRM maintenance, blog authoring, SEO projects, email campaign management, etc., you learn quickly that there are common roadblocks to project success. While delays, misunderstandings and changes to a project are easy to overcome, most of the time they can be avoided altogether by keeping the lines of communication open. In an ideal world, we would discuss the following before budget, timeline and scope are agreed upon to get your project started off right.
Goals
Set objectives with your team. Seems pretty straightforward, right? The truth is that your goals should shape your project. A good team will tell you if your goals could be better achieved with a new tactic, a different execution or new project altogether. Be thorough and thoughtful in this process:
What are your boss's objectives for the project? What about the accounting department? Will they be happy with the project if it is executed in this way or that way?
Do you have a plan (or need guidance to build a plan) to demonstrate that increase in leads? To prove that the website is user-friendly? To prove that you've reduced overall cost per lead?
Are your goals specific? A recent HubSpot study has shown that when goals for a website redesign are specific, the entire company is happier with the result. We can help by providing baseline metrics or doing some analysis based on your projected business growth.
Have the goals been communicated and agreed upon internally?
Budget
Often this is a sensitive subject, but it is so important! The tendency for the almighty budget talk is that it is brought up after a project has been shaped, then your dedicated web team works to accommodate with tighter timeframes and less time to dedicate to your project. Your web team should be honest with you if your budget doesn't match your goals and specifications. Perhaps there are some portions of the execution that move to a later phase when the business growth allows for additional budget.
Other
Ah, there are also going to be some probably-should-have-told-you moments in every project. Here are some common ones; discuss and plan for these now for a smoother project:
Do you have a lengthy internal review process? Not a problem, just let us know how this works and how it will influence the project schedule and review processes.
Who will be involved in the project? Who will be influencing the structure, design, copy? Who will need to know how to work with the website, templates, CRM, etc.? Just like we need to know everything you can possibly tell us about your prospects and customers, the internal team is also an audience for the project delivery. It's great to get insight into who's doing what!
There are a ton of other areas we could address here. However for brevity's sake, I'll summarize with this – keep us in the loop. (Especially if things aren't going well, so we can fix it!)
Here's the confessional part of this post: a good team will honestly want to help you achieve success as a result of the project. The more information we have as to what will make the project a success, the more likely it will happen. Ready to get started? Drop us a line. We look forward to working with you!