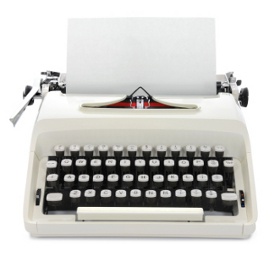 When undertaking a new web project, it's abundantly obvious when a professional web designer has been hired (versus your second cousin who is relying on the HTML training he got in high school .. 10 years ago). And while you may be the first to admit you don't have the skills or knowledge to re-design your website all by yourself, you may be a bit too proud to admit you don't have the capabilities to handle your website's copywriting. You speak English after all, right? Why wouldn't you be qualified?
So, what exactly is website copywriting anyway?
More than just populating your website with words, copywriting involves developing custom, often SEO-friendly text designed to draw in and engage your target audience and impress the search engines. Copywriting can involve website content, PPC / banner ad copy, whitepapers, blog posts, and even social media content. The goal of copywriting is to give readers the information they're looking for without getting stuffy, overly-technical, or overly-salesy. In the past, copywriters and SEO specialists were sort of thought of as separate entities, but nowadays, copywriting and SEO tend to go hand-in-hand, making it an even more important task than before.
And why do you need to consider hiring a professional copywriter?
Skills
No offense, but if grammar's not really your thing, or if most of your emails read like text messages from a 14-year-old girl, it's probably a good idea to hire a professional. No one's an expert at everything, and finding someone who lives and breathes writing and grammar can make things a lot less stressful for you and can prevent customer drop-off on your website. If you've ever had to re-read something multiple times to understand what it says, you know what we mean.
Tone
Your content can often benefit from an objective outsider's view. For example, you might think certain elements of your business should be at the forefront of your content, while research might indicate otherwise. A professional copywriter can take the emotion out of writing and can take a more methodical approach to your content.
Time
You get busy; we know how it goes. You have a business to run, employees to manage, and customers to service. You know your website is important, but you just flat out don't have the time or energy to give it the attention it deserves. Outsourcing your copywriting to a professional can take that burden from your shoulders and help you ensure that your content is regularly updated to keep both the search engines and your customers interested.
Need help with your copywriting?
From ad copy to complete website overhauls to everything in between, we can help. Contact us to get started.