If you're a manufacturer, distributor, or similar B2B entity and think that e-commerce is solely the realm of Amazon, eBay, or Zappos - think again. Your B2B customers are consumers too - and they want to buy from you online. In fact, your B2B customers want to buy from you in the same seamless and efficient manner that they buy books from Amazon or shoes from Zappos and with the same customer service expectations. Whether you like it or not, B2B e-commerce is being held to the high standards set by B2C players like Amazon and eBay. If you haven't considered B2B e-commerce as a method of increasing sales for your manufacturing or distribution company - you're likely behind the curve.
Why B2B E-Commerce
It's predicted that US based e-commerce will approach $280 billion (USD) in sales by 2015. In addition to riding that upward sales wave, here are some more factors to consider in moving your B2B purchasing online: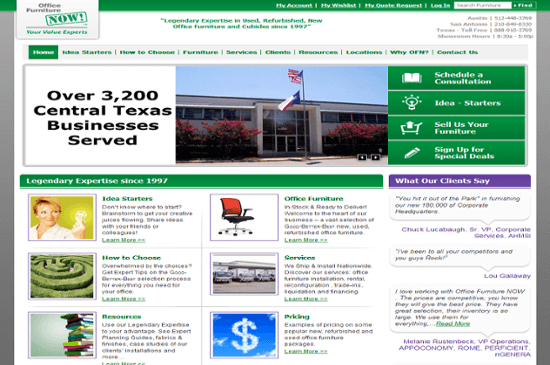 LyntonWeb B2B E-Commerce Client - http://www.officefurniturenow.com
Track and Understand Customer Purchase Patterns
You might be selling highly customized, CNC machined products, for example. Seeing (and tracking) the website pages that your customers visit, will give you insight into the information or product attributes they are most interested in. Is your product a metal alloy, pure stainless steel, or a polymer plastic? Perhaps you'll find that the type of material plays a heavy role in the purchase decision. You will also be able to determine why products or purchases are abandoned. Why is Product A typically abandoned after being added to your shopping cart while Product B doesn't even make it into your shopping cart. Integrated ecommerce packages with tools like HubSpot will offer you access to Big Data that you can then analyze for meaningful patterns.
Globalization
Your manufacturing company started out in Fort Worth, then built a facility in El Paso. You just opened an office in Austin - but the demand for your product is growing overseas. Rather than investing in office space and a sales-force in Europe - start by offering international e-commerce transactions supported by multilingual site capabilities. You'll be able to track your global demand and sales from your headquarters in Fort Worth and still enjoy the Texas summer heat.
Supply Chain Efficiency
Are you currently sending regular customers to a warehouse or other outlet for regular or recurring purchases? E-commerce will offer the capability to set up recurring orders for repeat customers. Further, coupling your Big Data analysis with your supply chain will allow you to offer multiple or paired products to customers. Why not remind a large customer of yours that they should buy lubricating grease for the large industrial chain that is currently in their shopping cart? A paired purchase reminder like this is easy to automate through e-commerce and is helpful to your customer.
Product Variety
Suppose you're a furniture manufacturer in the Midwest. There is no amount of showroom space that can compare with the online space available to you and the variety of pictures and options you can present to customers. You'll also be able to determine which products or which versions of products are generating the most interest.
Software as a Service
This is just a fancy way of saying that you, Mr. or Ms. Distributor, will not have to go to Best Buy and decide on which big fancy computers to buy and lug back to your office. Instead, you'll be able to hire experts that will help you configure hosted e-commerce and marketing tools like Shopify and HubSpot to optimize your B2B e-commerce efforts at a much lower cost than in-house servers and databases.
Ramping up for B2B E-Commerce
So, you're convinced by the compelling reasons above and wondering what you should do next. Firstly, be sure that your website is optimally tuned to generate leads and build your brand. No one wants to make online purchases through a poorly thought out website that is devoid of valuable product information. Secondly, capture your leads (if you're not already). Lead intelligence will help guide your e-commerce efforts. And finally, consider this intermediate step before full blown e-commerce - offer your product set online and allow users to determine product attributes but let the final step be contacting your sales people rather than an online purchase. It's a useful way to get end-user feedback on what essentially is a prototype of your future website shopping experience.
Implementing B2B E-Commerce
Still not sure? Worried? It's OK - go ahead - dip your toes in the e-commerce waters. Implementing e-commerce is the easiest part of this process - just give the LyntonWeb B2B experts a call - we'll help you every step of the way.