For the past 2 weeks, I have been on pins and needles waiting for the official announcement of HubSpot 3. I can't even begin to tell you how excited I was after previewing an early demo. Finally, now that the world knows about HubSpot 3, I can come out of hiding to talk about all of the latest features!

Earlier, you were introduced to the Contacts Database and Email Tools. I'm excited to introduce Workflows next and show you how to leverage information from the database to automate some pretty amazing sales and marketing actions. If you are familiar with HubSpot's Lead Nurturing Tool, that is what Workflows will be replacing in the new rollout. The best part about Workflows is that it is in no way limited to just email automation. In addition to triggering emails, workflows can trigger campaigns, change contact profile properties, score leads, send internal notifications, and sync to a CRM system based on when a lead has met a set of conditions.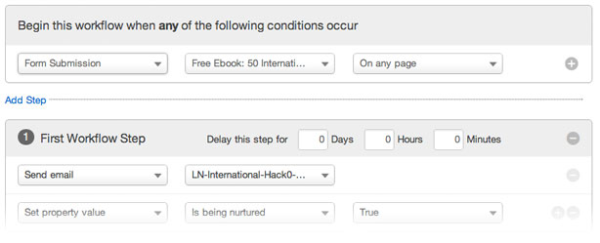 HubSpot has defined workflows as, "a mechanism that automates a given business process or a transfer of information based on a set of rules. Marketing automation of emails is based on workflows, but workflows can also trigger other activities like changing a lead status or sending an internal alert."

Some Kick-Butt Features to Note in Workflows:
As before, workflow starting conditions can be tied to form submissions. However, you can also limit the condition to form submissions from specific pages. Multiple forms can be included by adding a 2nd starting condition (this is like adding an OR statement). For example: Limit the starting condition to a case study download form on the company's contact page OR a case study download form on the company's service overview page.
You can trigger workflows based on activities such as, page views, social media mentions, information filled out in a form, and much more.
Workflows can trigger the following actions:

Send email: send an email when contact meets starting condition

Set property value: add someone to a workflow based on their answer in a form

List action: add contact to a particular list when contact meets starting condition

Increment property value: allows you to add to a property value when a workflow executes

Copy property: copy property data in the contacts system from one field to another (i.e. if you accidentally imported data into an incorrect field, it can now be moved by running a workflow)

Web hook: a notification from one application or system to another
Thanks in big part to LyntonWeb's CRM Integration:

you can sync the lead owner in CRM and send workflow-driven emails customized to come from the lead owner

create inbound workflows and smart lists based on data in CRM, such as total lifetime value, industry, etc.

send email to your prospects and customers in CRM - they'll be tracked with cookies as soon as they click a link to your site, making them eligible for dynamic content

create Smart CTAs based on the segmentation data in your CRM

sync social data to CRM, like twitter followers and social media clicks!
The old lead nurture tool limited email trigger times to 1 day increments. The earliest you could send the first email of a sequence was 1 day after the defined conversion event. With Workflows, now you get to control the exact time an email goes out after a lead converts on your set trigger event. You can schedule delays in minutes, hours and days for workflow steps. For example: Send Email 1 "20 minutes" after Form B is submitted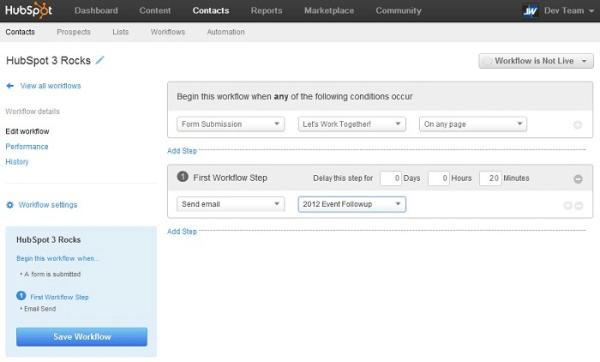 In the old lead nurture tool, campaign timing was based on business days. Workflows allow you to select weekend delivery as an option within the settings of each individual workflow.
Workflows work with HubSpot's new email tool. The new easy to use interface allows you to create professional looking and personalized emails. Performance reporting lets you see which contacts opened which messages and when, which links they clicked on, and what actions they ultimately took. Hooray for open rate metrics!!
We haven't even really begun to scratch the surface on the capabilities and benefits of the new Workflows feature. I said I love HubSpot earlier this month, but now I'm starting to think that was just puppy love. HubSpot 3 is quickly blossoming into my one true love. Does anyone else feel this way?

Don't go too far. Tomorrow, we'll cover the details of even more HubSpot 3 features. See you then!
Next in the HubSpot 3 series CTA Manager, Landing Pages, Smart CTAs, and Social Contacts.