A few weeks ago, Twitter announced changes coming in version 1.1 of their API. It's a bit of an understatement to say that a lot has happened since that first tweet went out in March of 2006.
Twitter's user base has grown to somewhere in the ballpark of 500 million. They enjoyed a successful partnership with the 2012 Summer Olympics and almost every show on television has a hashtag related to the show itself or a specific episode.
It took Twitter "3 years, 2 months and 1 day" to hit their billionth submitted tweet. They do that much in a week as of March 2011. Twitter is a powerhouse. No one can refute that.
Twitter's Growth Trajectory

Many people feel Twitter owes their initial growth and survival to third party developers. Shortly after Twitter launched in 2006 they released their API which allowed developers to build applications on top of Twitter's platform.
Many of those developers sold those applications for a profit. Some of them even sold them to other companies (the amazing Tweetie iOS app was picked up by Twitter itself and turned into the official Twitter for iPhone app). Third party developers and early adopters were all over Twitter.
There were heavy hitters such as Twitterrific, Twhirl, as well as simple mobile interfaces for BlackBerry. As soon as iPhone and Android hit the market, Twitter mobile apps grew rapidly. If you search for Twitter apps in the iOS App Store or Google Play store today, you'll still find many third party apps, like Tweetbot, HootSuite, Echofon, TweetDeck, UberSocial, Seesmic and countless others. Third party Twitter mobile and desktop apps are everywhere, and everyone has a favorite one. It wasn't until 2009, three years after Twitter launched, that it began to gain massive popularity.
Many of the design and branding elements that Twitter uses today came from third party developers and early adopters. Twitterrific itself is responsible for the first instance of the word "tweet", the bird logo/icon, and a character counter as you type.
Features such as the @reply (which took Twitter 2 years to implement after it was widely used) and the hashtag were created and used by Twitter's earliest adopters. Could you imagine Twitter today without either of those features?
How has Twitter paid back those developers and early adopters? The changes in their API do a pretty good job of pushing them aside. Twitter is limiting developers who create Twitter clients like Tweetbot, Twitterrific and the rest to 100,000 user tokens. That effectively means app has a ceiling that will cap it's growth and profitability.
Twitter has also cut off the ability to find your Twitter friends on other platforms. LinkedIn, Instagram, and Tumblr are no longer allowed to access Twitter's follow graph data. For example, at one point you were able to sign into LinkedIn, Instagram and Tumblr with your Twitter account and see which of your Twitter friends were on that service. This makes finding your friends easier and makes these new apps and services easier and more compelling to use.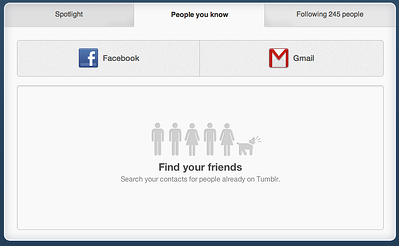 Where's Twitter?
Tumblr isn't happy, and neither are a lot of developers who feel betrayed by Twitter. Two developers are even taking things into their own hands. App.net is a site that is a paid service currently in alpha testing. For $50 you can sign up and claim your username. Anyone can view the global time stream or an individual user's streams/posts. Right now, App.net is more or less a Twitter clone, but the sky is the limit for developers on the service. Will App.net skyrocket or even be around in a year or two? Well, that's tough to say. Currently there are about 17,500 people on App.net. They will need that user count to continue to rise.
A $50 entry fee seems high, and I'm sure it's keeping some people from signing up. But $50 a year turns out to be just over $4 a month. Do you get more than $4 a month worth of value out of Twitter? Think about it, if you have a paid service, it wouldn't need to be supported by ads like Facebook. Twitter wouldn't have to scramble as they are now trying to come up with a sustainable business model. Spam wouldn't be an issue. The user becomes the customer, not the advertiser. That is how Facebook works, and that is the path Twitter is taking.
Are these API changes the end of the world? Is Twitter dead? Most probably not. On The Talk Show, host John Gruber asked the question of how wide spread third party apps really are. How many people actually post to Twitter using something other than Twitter.com or one of the official Twitter apps? Benjamin Mayo took Gruber's question and did the research. Mayo found that 70% of the tweets that he sampled were sent through one of Twitter's official apps or the website.
Twitter is very clearly trying to monetize and no one is holding them to the fire for that. They are upset with HOW Twitter is going about it. Hopefully Twitter realizes this and repairs the bridges they have begun to burn.
Inbound Marketing Ramifications
Twitter has been a useful tool to extend your brand presence, share useful content on an ungated site and follow thought leaders in your field. However, if the developers and power users leave Twitter in droves its evolution will suffer. Certainly this won't happen overnight. As an inbound marketer you should always be tracking your referral traffic and the sites that bring you the most leads. For LyntonWeb, Google and HubSpot are key referral sites for us - so a decline in Twitter would have less impact on our visitor traffic. However, if you have a huge Twitter following, like Chris Brogan, a decline in Twitter might affect what technologies you use to nurture and build your brand with. Don't scurry away from Twitter just yet, but pay attention to how Twitter treats it's original loyalists and other folks who helped make Twitter successful. Be wary of biting the hand that feeds you.
Photo: ~updel