Last week Social Fresh hosted the Social Fresh West Conference in San Diego, California, bringing together marketers and agency reps to listen to industry experts share strategies and trends related to social media marketing. The conference was the latest in a series of one and two-day events started in 2009 by company founder and CEO, Jason Keath.
The real meat of the conference, of course, was the actual speaking sessions which included thought leaders representing a range of agencies and companies to include Citrix, HubSpot, Hershey's, Edelman Digital, Expion, Argyle Social, Intuit, Citi, Cisco, Spruce Media, Singley + Mackie, TalyorMade Golf, and Spindows. The information presented by these speakers was excellent, and over the course of these sessions, five key themes emerged.
1. Social media marketing is not isolated
Argyle Social CEO Eric Boggs's presentation, "Escaping the Social Fortress of Solitude," was an appropriate beginning to the conference as the concept of social not being an isolated entity was reiterated in future sessions. Boggs focused on the need to integrate social insights into other data channels to build a unified view of customers so as to better reach them. The idea of social extending beyond silos was also echoed by TaylorMade's Liz Philips, whose case studies proved the success of using social to support larger marketing campaigns. Anna Lingeris of Hershey's touched on this contending that social and PR should work hand-in-hand because their of shared relationship-based nature. Likewise, Clay Hebert (Spindows) outlined the power of social when used in conjunction with earned, owned, and paid media initiatives to drive success.
2. Marketing automation and social have a future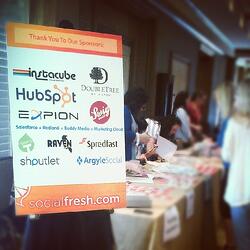 The bulk of this topic was covered HubSpot's Mike Volpe in his presentation, "Marketing Automation is Not Evil." Volpe showed the good, the bad, and the ugly of automated marketing tactics before contrasting this with more appropriate applications such as data collection, sales funnel management, email segmentation, and content publishing. Volpe's discussion helped give context to an industry prediction cited in Boggs's presentation, that the next major trend in social technology will be increased integration with lead management, CRM, and email marketing solutions.
3. Social advertising can be highly effective
Two presentations dealt directly with social advertising—Justin Kistner's "What Makes a Great Facebook Ad Campaign," and Matt Singley's "Putting the Social Back Into Social Ads." Kistner (Spruce Media) shared how a three-phased approach of growth, engagement, and influence through Facebook advertising can result in less spend, cost effectiveness, and direct ROI. Later, Singley, looked at the topic as a whole, building from a premise that social advertising is not display advertising, but rather another form of social communication that marketers have to adapt their strategies toward. With this in mind, Singley advised that social ads need to provide something of value to people, and shouldn't be geared for gathering "follower trolls" (those who follow a brand but offer nothing to the brand beyond being just a number).
4. Customer-centric content is more important than ever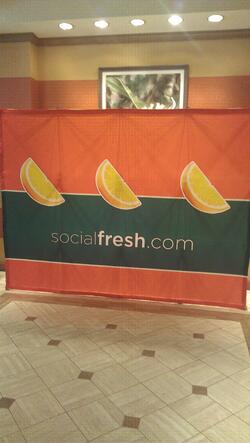 It should be no surprise that the subject of content permeated nearly every presentation as it is essential to successful social marketing. In fact, good content might not be enough today according to Expion's Zena Wiest who shared strategies and tactical examples of how to take good content and make it great content through combining community insights, an optimized distribution process, and content that both connects with customers and results in action. Lingeris (Hershey), mentioned earlier, outlined a social strategy built using content , influencers, and brand experience as well as how content supports earned, shared, and owned media in social campaigns. Customer-centric content was central to the presentation by Intuit's Adrian Parker who compared the differing social mindsets between consumers seeking trusted content sources and brands mistakenly focusing their content efforts on awareness instead of customer needs. Of all the discussions on content, one quote by Christopher Penn, cited during Justin Levy's presentation on the power of webinars, best summed up the idea behind customer-centered content. "Your kids never say, 'Daddy, tell me a press release.' They ask you to tell them a story."
5. Engagement dictates success
Whether it was the socialization of ads, gaining customer insights, or user generated content, engagement was the next most universal topic of the conference. It was fundamental to Michael Brito of Edelman Digital as he explained "How to Build Your Own Advocate Army" through engagement, along with a human voice, relevant content, and reciprocal altruism. Driving engagement was also a major portion of LaSandra Brill's (Cisco) session on gamifcation in which showed how anything can be gamified, even in B2B marketing. The importance of engagement was further underscored by Frank Eliason's statement that sociable intimacy will be the key to influencing your customers, a concept he is all too familiar with given his fame in turning around Comcast's customer service department.
As a final note, in all the discussions it was clear that future of marketing needs to center almost entirely around the customer. Those that understand this and adapt will succeed; those that don't won't. In other words as HubSpot's Mike Volpe put it, "If people don't love your marketing it's not marketing."