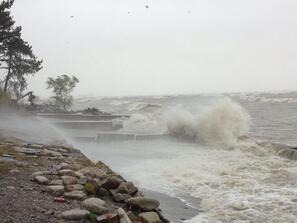 Firstly, inbound marketing aside - if you're affected by Sandy - please be safe! My neck of the woods (Cleveland) wasn't in the direct path of the storm but in my county alone there are still close to 30,000 people without power. So again, be smart and safe.
Secondly, remember that your company can (must) produce helpful content marketing during this weather crisis. Every day, your organization does all sorts of things to help people regardless of whether you're an IT firm, a manufacturing firm, or a training and development organization. Pivot your helpfulness to crisis mode and consider these helpful content marketing ideas:
IT Firm - a timely blog post on disaster recovery or storage backup procedures during natural emergencies.
Manufacturing Firm - how your lean manufacturing practices could be used to speed relief efforts to storm affected areas.
Training and Development Organization - how the best leaders lead in time of crisis.
Inbound Marketing Agency - offer instructions on preparing and online news release and let people know how they can get their release out in as little as two hours.
Don't use the hurricance as a time to newsjack, highlight the value of your organization within this time of crisis.
Photo: Rob Koscho