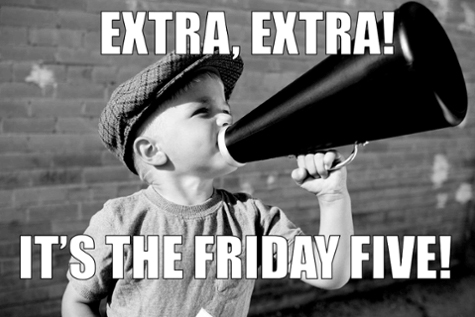 Happy New Year! How's those 2013 resolutions going so far? Making it to the gym every day? No? Us too. Anyway. What we will be keeping up with for 2013 is the Friday 5. Here's what's on the list for this week in The Friday 5: Five Headlines from Social Media, Inbound Marketing, SEO, and Web Design, keeping you up to date with the latest news, trends and tips from the past week.
Link Building in 2013
Strengthen Your Social Media Channels
Five Social Media Biz Strategies
Essentials for Blogging Success
Adding a Content Strategist to Your Team
(Search Engine Watch) Another year has come and gone. For link builders, 2012 may well be remembered as the year that link building truly changed forever. There have been hints over the years that the engines were getting wise to certain questionable linking tactics, but nothing quite as dramatic as what took place in 2012. Several techniques that had worked for years stopped working.
(Content Marketing Institute) A large number of companies are thinking about their next steps in social media, and one of the key factors in any social media strategy is the channel/content debate. Companies are struggling to capitalize on their use of social media channels. To provide some guidance, we would like to share our approach on how to make effective use of social media channels in order to spread content.
(Mashable) The way businesses use social media in 2013 will change the way customers and companies interact on the medium. According to social intelligence firm newBrandAnalytics, here are some of those changes.
(Social Media Examiner) Do you want to be a more successful blogger? Are you keeping up with the newest developments in blogging? Whether you are new to blogging or you have been blogging for years, you will find insight in this article. It covers 26 blogging essentials, in an A–Z tour of the blogosphere. Each one has a full explanation, along with a link to further reading in case you want to know more.
(Social Fresh) In my mind, successful "social media" strategy lives at the intersection of the information needs of the social audiences you can grow, obtain and nurture, the content you can create or curate for them, and the right choice of social platforms that you use to deliver your message. These intersections happen in minute slices of time – those seconds when the user was browsing for content when that social network happens to deliver them your content in their social stream. But the desire to create more of these intersections happen has made the challenges of creating that content more daunting than ever.
* * *
If you liked this blog post, you should share it. If you really liked you'll probably like the information our whole team publishes—you should subscribe to our blog. You can also subscribe to our Lynton Webzine, a collection of articles from among the best sites in web marketing and design. And if you really, really, liked it, then you will like engaging with the likeable, knowledgeable, loveable bunch at Lynton through our social networks. Thanks!