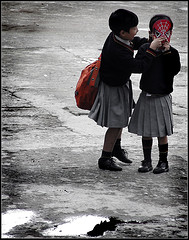 Online marketing has changed extensively over the past decade. Even over just the past 3 years there have been countless changes that affect your online marketing and your sales conversions. We have seen changes in search engine algorithms, new social media communities, better educated consumers, and so much more.
With so many changes, the marketing principles you learned in school or in the field, might be out of date.

The following are 9 online marketing principles you need to know.
1. Research your Keywords
It is essential to research what keywords are the best fit for your product(s) or service(s). Without research, you are simply shooting in the dark and hoping to hit the target. You don't want to waste your time or visitors' time by using a keyword that doesn't really describe what you offer.

Create a list of keywords that you will incorporate in your online marketing efforts. I find that using Google's Keywords Tool is very helpful.
2. Long-tailed Keywords are your friends

Search and online shopping habits are changing. Instead of searching for broach, general terms like "shoes," more and more online users are typing in long, specific phrases like "cheap women's shoes." These long phrases during search are called long-tailed keywords. What is even more important is that conversion rates using long-tailed keywords are significantly higher than from broad, general keyword searches.

Make sure that your keyword list includes long-tailed keywords that describes what you offer well.
3. Offer great, fresh content

Having fresh, relevant content can do multiple things for your company; It can attract new users, convert visitors into customers, turn customers into enthusiasts, and help your website rank higher in search engines.

The key to accomplishing all of these results is to consistently create blog articles and advanced content (like whitepapers, and webinars) that include the keywords on your list and that is relevant to your buyers.
4. Capture leads

Ask for visitor's contact information in return for great advanced content, such as whitepapers, eBooks, webinars, or infographics. It is an easy exchange; The visitors fill out their information and you give them what you promised. Now you will have leads' contact information for your sales team and they have great content. It's a win-win.


Continue to generate advanced content in return for contact information and you will see your number of leads continue to grow, making your sales team happy.
5. Nuture your leads

Now it is time to prove to your leads that you are the industry expert and that they should purchase services or products from you. You can do this by nurturing your leads through a set of automated emails giving great content related to what they originally were interested in.


By sending your leads emails with interesting content, you are helping move them further down the sales funnel and getting them ready to be contacted by your sales team.
6. Every page should contain meta tags

Best position your website to be crawled by the search engines and visited by online users by including meta tags on each and every single webpage. Those meta tags include page titles, meta descriptions, and meta keywords. Below you can see an example search result, where the blue link shows the page title and the description shows the meta description.




By including meta tags on every page, you are taking the work off the search engine's hands and making it clear for potential visitors by telling them exactly what this page is about. The more clear it is what your company/website is about, the more likely a visitor is to convert.
7. Use images

Whether it is on a static webpage or a blog post, use images to illustrate your point. And if you can use original images, that is even better. Just as important as incorporating meta tags on every page, you must remember to include image alternative tags (or alt tag) to every image. Search engines cannot read images so including that image alt tag is the only way they will know what it is about. That image will then be indexed and used whenever someone does an image search for the text you included.


Keep in mind that although images can be a great accent to webpages, make sure that essential items such as navigation and text are not images since the search engines cannot read them. Only use images as accents to your content.
8. Promote your content

You put the effort into creating great content so make sure to share it and let people know it is there. Use social media accounts (Twitter, Facebook, LinkedIn, Pinterest, Google+, etc.) and email newsletters to share links to your content. What often happens with great content is that your contacts and followers will share it with their friends and colleagues, giving you even more exposure.


Continue to share all of your content, new and old, and you should see growth in your followers on social networks, traffic to your site, and number of leads.
9. Inbound links are essential

I like to think of inbound links as votes in an election. The more votes wins the race. So essentially the more links you have, the more credible your website seems to the search engines. Using the same analogy, stuffing the ballot would be illegal and would most definitely hurt the reputation of the guilty candidate. Buying links is like stuffing the ballot. Your website will be punished by the search engine.


Bottom line: don't buy links. Focus on gaining genuine, relevant inbound links to your website through sharing content and creating partnerships with industry related companies. These inbound links can improve your search engine rankings and attract new potential customers you couldn't have reached otherwise.
With these 9 principles in mind, you should have a good start to updating your online marketing knowledge.
Photo Credit:
Sukanto Debnath
via
Compfight
cc