Sex, Social, and Suds Featured in 2013 Super Bowl Ads
---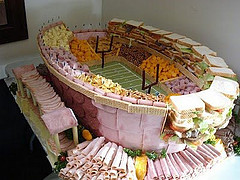 Wait, am I allowed to use Super Bowl in my blog title? Maybe I should've used "Big Game?" Mr. Goodell, if you're reading, please accept my apologies in advance. I do hope that the Super Bowl Big Game will truly be super big this year.
SEX
Apparently, sex sells cars. Or at least that's what Mercedes and Fiat believe. Or, maybe not. Here's what Mercedes USA CEO, Steve Cannon, had to say about Kate Upton's positioning in the Mercedes ads...
---

"We are not using her as a sexual object."
My thoughts? Very nice car - I wish they would show more of the car. And is Kate Upton actually washing the car - or are the football players washing it?
SOCIAL
Still selling cars here. This time we're using tweets not sex. U.S. car company Lincoln asked the Twittersphere to Steer the Script by sending tweets to Jimmy Fallon. Here's the result:
A winding story line to say the least. Lincoln does a good job of reminding the viewer of a story and a brand that starts with "you."
SUDS
SodaStream International takes a nuanced environmental angle in showing branded soda bottles exploding while touting it's seltzer making machine.
Explosive, indeed.
In case you're not planning on watching the game, you can see all the ads here.
One last thought. If you have $3.8 Million to spend - call us. We can give you 16 years of inbound marketing for that amount. And people won't forget about your ad a few days after the game.
Photo Credit:
methodshop.com
via
Compfight
cc