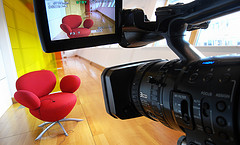 A video interview with a CEO is a valuable way to capture content for your enterprise inbound marketing efforts. You're speaking with the top person, maybe even the organization's founder, and definite visionary of the company. What can possibly go wrong, you're thinking.
Well, quite a bit, if you're not prepared.
There are a few items you should pay careful attention too when planning a CEO video shoot:
Objective - what is the purpose of your CEO video? Is it for new hires, marketing purposes, or PR purposes (i.e. public company crisis, like the BP oil spill)? Your business objective for the video serves as the umbrella of your efforts.
Scheduling - a CEO's schedule is typically very tight and her time valuable, so be sure to provide a detailed filming schedule in advance. Include a day prior to the shoot for location scouting and build in time for set up before the CEO is on location the day off the shoot. The last thing you want to do is look disorganized in front of a CEO.
Scripting - put some forethought into scripting even if you are anticipating a straightforward interview. Things change when the camera starts rolling. People freeze up. Multiple takes are needed and the answers and questions that seemed so well laid out in your mind, play out clumsily in real life. Have a script and a shooting plan in place.
Trusted Partner - if you don't have in-house video capabilities, you'll need a regular, trusted video partner (or partners) you can rely on. If you're doing geographically dispersed video shoots you'll want a core of regional video production companies that you can tap into when needed. The good thing about selecting a solid video partner is that most production companies have demo reels on their website. These demo reels let you quickly assess the skill level and quality of their video product. And don't make the mistake of thinking video is easy and that all you need is an HD video camera and good lighting. Having an onsite producer and video team can be invaluable. Acoustics, lighting, location, and sound quality will all affect the production quality of the video.
The Small Stuff - do sweat the small stuff. If the small stuff trips you up, it becomes big stuff. Define small stuff, Roman. Sure, I can do that. For example, if you are planning a video series with a CEO that is released over time, you may want wardrobe changes. Your fresh monthly CEO video shouldn't have your CEO always wearing the same shirt - even if the whole series is taped in one day. Another example - glasses. Many glasses today have anti-reflective coating that won't glare up on camera - but some don't. You don't want your CEO's glasses causing glare. Some CEO's may not even want to wear glasses on camera. And don't let your video subject get shiny. Whether it's sweat or a healthy glow, you may need to consider basic makeup to make your CEO look natural under the glare of bright lights.
Your end video product will be a reflection of both the CEO and the company's brand. Don't take any video production effort lightly.
Photo Credit:
2create
via
Compfight
cc