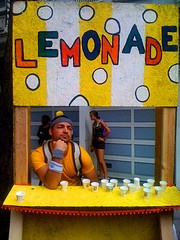 Congratulations, inbound marketing super hero! Your team has invested time and manpower into your enterprise inbound marketing efforts and you've been rewarded with a list of sales qualified leads. Way to go! Let's do a quick review of the work that got you here:
Your team developed effective buyer personas
Your team identified keywords that help attract prospects to your website
You optimized your website landing pages to capture leads
You developed killer lead nurturing campaigns
You have the leads, so now you need the sale. This is where your sales team steps in. Consumers do a lot of research when deciding which products can best solve their problem or satisfy their needs. In most cases, the larger the purchase is for a person or company, the more questions they'll ask and the more research they'll do. If key questions and concerns are not addressed during the sales process then you are at risk of losing the sale.
Here are some tips to be mindful of as you work to convert leads into sales.
Know Your Potential Customer - capturing a lead through a marketing automation system like HubSpot will provide you with valuable info. You'll know what type of content the lead converted on and what they did while visiting your site. Don't stop there. Research a prospective client company or lead through LinkedIn.

Be Responsive - communication and timing are essential. Reply to or address a question or concern as quickly as you can. A potential customer will automatically relate lags in response to a poor client experience with you. Even if you have to research the answer to a question, acknowledge receipt of a call or email with a promised follow-up time.

Overdeliver - Go above and beyond the expectations you set. Be helpful, genuine, and reliable. Let a lead know you're focused on delivering the best possible solution for them. Even if your lead never becomes a customer, they may recommend or refer you to others.

Say No - If you hear or identify red flags in sales conversations, don't discount them or think they'll be addressed once the lead becomes a customer. The hard work really begins after a sale. If your lead is singlemindedly focused on SEO or ranking on a particular term - they may not be not be a fit for inbound marketing services or they aren't as far down the sales funnel as you may have initially thought.
Remember, treat your lead just like an existing customer and that lead will become a customer.
Photo Credit:
maubrowncow
via
Compfight
cc