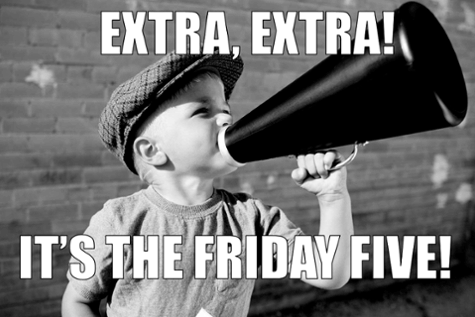 Howdy! It's time once again for The Friday 5: Five Headlines from Social Media, Inbound Marketing, SEO, and Web Design, the weekly roundup for keeping you current with the latest news, trends and tips that affect us all. In this this edition:
Strategy is Not Enough
Tips to a First Blog
Ultimate Lead Capture Landing Page
SEO is Not Dead
Using SlideShare
(CMO.com) We all accept that strategy guides us in the development and execution of our marketing—or it should. Before we do anything else, we have to understand our current and potential customers, our competition, and the market conditions. In doing this, strategy explores the context within which we market and sell, and it hopefully reveals insights along the way that become the basis of a differentiating way to take our brand to market.
(QuickSprout) I don't like bragging, but I have to say I'm a pretty good blogger. It's not because I am smart or anything like that, it's actually because I screwed up one too many times. After starting 4 blogs and making hundreds of mistakes over 7 years, you eventually figure out what to do,and what not to do. I just wish someone told me all of this before I started my first blog. Here are 11 things you should know before starting your first blog:
(Unbounce) If you're looking to build a lead capture landing page, it's not just a matter of slapping a form on a page and driving traffic to it. Well, you could, but it wouldn't perform well. Instead, follow these 15 steps and create a high performance landing page designed specifically for gathering leads. Read on and learn how to build the ultimate lead capture form, an example of which will be uncovered right at the end.
(Business2Community) In recent times, there has been increased discussion concerning SEO and its validity as a contemporary marketing tool. This has been triggered by a number of factors, but the most serious surrounds the perceived notion that Search Engine Optimization is no longer an effective way of achieving online visibility. This logic is flawed, however, as it does not take into account the evolutionary nature of SEO and the pace of advancement within the industry. With search engine leaders Google constantly shifting the boundaries of SEO and looking to improve the quality of web based content, it appears as though marketers are struggling to succeed with outdated techniques and inadequate, online tools.
(Social Media Examiner) Do you use SlideShare? Are you looking for more leads? To learn how SlideShare can help marketers, I interview Todd Wheatland for this episode of the Social Media Marketing podcast. Also, read this presentation
SlideShare 101 from Amit Ranjan
***
If you liked this blog post, you should share it. If you really liked you'll probably like the information our whole team publishes—you should subscribe. And if you really, really, liked it, then you will like engaging with the likeable, knowledgeable, loveable bunch at Lynton through our social networks.