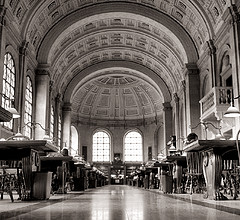 Given the tragedy in Boston yesterday, I was struggling with an appropriate blog to post this morning. Being the dutiful inbound marketers that we are - we typically have a number of posts in the queue - one piece was funny, one informational, and the last one a bit tactical. None of them seemed to work for me this morning.
Just last month, I had the opportunity to be part of a LyntonWeb team headed up by our CEO, Daniel, that visited our friends at HubSpot and a client of ours in Boston. I hadn't been to Boston in a few years and was reminded what a majestic and proud city it is. Everywhere you turn, you're greeted by history and tradition and, well... accent. I kept wondering why the valet was asking about my khakis. Were they wrinkled? Dirty? Oh sorry, car keys - my error.
Normally, in this space, we focus on providing our friends and customers the best marketing advice we can and being the best partners possible. But for just a moment, I think it's useful to realize the partnership and camaraderie that endured through the tragedy in Boston yesterday. In business and marketing we highlight and reward collaboration, stewardship, and empathy within companies. Yesterday, all that (and much, much more) was on display in a true American city. And for that, Boston, we thank you.
We heart Boston, and we will make it through this - together.
Photo Credit:
haydnseek
via
Compfight
cc