Yes, you read that correctly inbound marketing friend. Roku, the video streaming device provider, recently reached the milestone of shipping 5 million units in the U.S. In celebration of this, they released a new Roku 3 player and, more importantly for us inbound marketing nerds, a very nice piece of advanced content in the form of an infographic.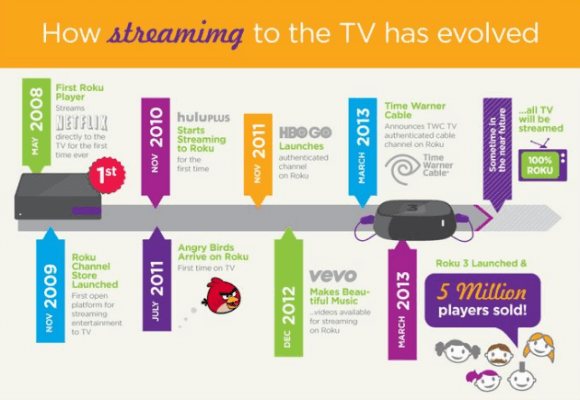 Naturally, Roku expected to receive some earned media from news of its 5 millionth unit being shipped but it also provided a valuable infographic not only to news organizations reporting on this milestone, but also to its engaged Roku user community. Roku's infographic is helpful in many ways:
Links - Infographics are an excellent way to generate backlinks to your website or blog post
History - Roku uses its infographic to share it's company history and evolution by highlighting the partnerships it has built since the first Roku player launched in 2008.
Buyer Persona - The folks at Roku also give a nice nod to buyer personas by providing data on when, where and what types of streaming occur with their device
Testimonials - Quotes from happy customers are displayed on the infographic
Vision - Finally, the Roku folks do a very nice job of capturing their vision of the future of all TV being streamed (100% Roku) in their historical timeline at the top of the infographic
Roku does an excellent job of using visual advanced content to share their company story and celebrate a milestone.
How can your company use an infographic to build its brand and commemorate a special occassion? An accounting firm might identify the amount of tax returns filed and dollars and time saved for its customers. A home builder might show total square feet built and hours that builders and craftmen have spent on custom homes since the company started. These are just two quick examples but there are many ways an infographic can be beneficial to your company.