The Friday Five: Awesome Frickin' Content, Data That Will Get You Fired, and Alternatives to PPC
---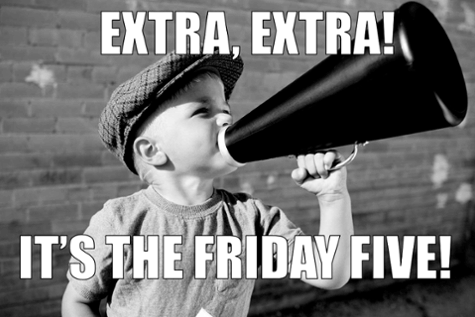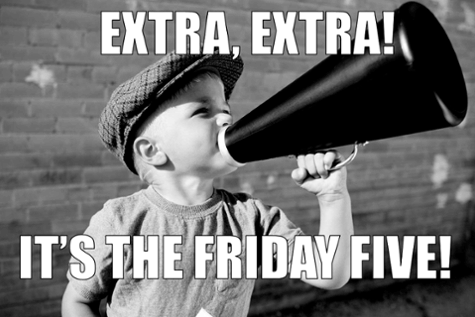 It's Friday? Already? Hey, we're not complaining, and we're betting you feel the same. But, until the whistle blows and you punch out we've got a new edition of The Friday 5: Five Headlines from Social Media, Inbound Marketing, SEO, and Web Design, a weekly roundup for ideas and news that you can use. (Hey! That rhymes.) This is what's on tap for this week:
Why Facebook is Blue
Awesome Frickin' Content
Data Myths that Will Get You Fired
Alternative to PPC (Good article!)
A Social Media Workflow [Infographic]
(Buffer) Why is Facebook blue? According to The New Yorker, the reason is simple. It's because Mark Zuckerberg is red-green colorblind. This means that blue is the color Mark can see the best. In his own words Zuck says, "Blue is the richest color for me I can see all of blue." Not highly scientific right? Well, although in the case of Facebook, that isn't the case, there are some amazing examples of how colors actually affect our purchasing decisions.
(Search Engine Watch) A couple of years ago, Scott Stratten of "Unmarketing" book fame (a great read) was asked his best SEO tip. His answer: write "awesome frickin' content"! Since then Panda iterations have had SEO practitioners reinforcing similar "content is king" mantras, and have had SEO doomsayers laughing maniacally at how SEO is dead (once again!). While Google's Panda updates did help define "better content" through a user-focused lens, with Panda's future as part of Google's primary algorithm, it seems an opportune time to help redefine exactly what is "awesome frickin' content."
(Occam's Razor) It turns out that Marketers, especially Digital Marketers, make really silly mistakes when it comes to data. Big data. Small data. Any data. In the last couple months I've spent a lot of time with senior level marketers on three different continents. Some of them are quite successful, but sadly many of them were not. In the latter group I discovered two common themes:
(New York Times) When Tom Telford helped found a vacation rental management company, Blue Creek Cabins, in 2001, he wanted a quick and easy way to connect with people looking to rent the 20 cabins he and his partner managed in and around the mountains of picturesque Helen, Ga. That is when he heard about a program called AdWords being offered by a new company, Google. Finding the system relatively easy to use, Mr. Telford selected a few keywords, like "Helen GA cabin rentals," and agreed to pay Google 60 cents every time someone performed a search and clicked on his ad.
5. Social Media Workflow [INFOGRAPHIC]
(Social Media Today) Ever wonder how much time you should devote to social media each week? While there is no set formula, this infographic breaks down the components of maintaining and measuring a social media strategy, based on a 40 hour work week. Maintaining a social media strategy is not only about scheduling tweets and replying to mentions. Rather, social media marketing is a living process in which each component is connected to the others. From content creation, to post scheduling, to campaign development, to analytics reporting, social media is an ongoing process. The social media work flow infographic below assigns time benchmarks for eleven components of a strong social media strategy: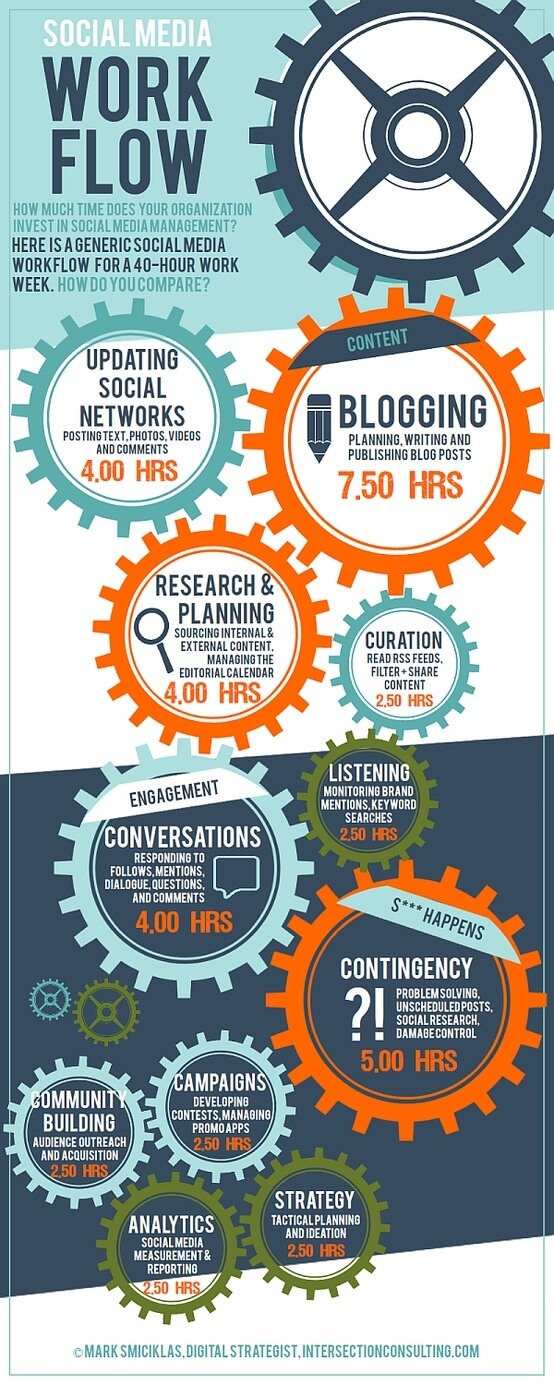 * * *
If you liked this blog post, you should share it. If you really liked you'll probably like the information our whole team publishes—you should subscribe. And if you really, really, liked it, then you will like engaging with the likeable, knowledgeable, loveable bunch at Lynton through our social networks.