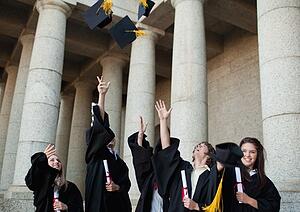 Higher education websites tend to have several pitfalls. They are often cluttered, difficult to navigate, and convoluted in their messaging. This is a result of the quantity and variety of different personas that visit education websites - prospective students, current students, parents, alumni, and employers to name a few. In the discovery phase for one of our most recent website projects, Center for Advanced Legal Studies, a school that provides paralegal education, we identified 17 different personas that could potentially visit their website.
Should a website be built for 17 different personas? Absolutely not! One necessity to building an effective website is to focus on the 3-5 primary personas that are critical to success and center a content strategy around them.
For higher education websites, the key to success is how prospective students will react to and be attracted to your website. Fortunately, all prospective students have a few common needs that you can help them with and ultimately bring them closer to becoming a student at your institution. Some ways to help potential students include:
Giving prospective students the ability to inform themselves. Your job in education is to help a student into a better career. Teaching them how their degree and how your school will improve their life will give them a reason to move forward with your program.
Letting your prospective students peek behind the curtain. As distance learning and online-only degrees become more common, it becomes easier to give your customers an actual look into what your educational institution or company can do. Don't be too concerned about giving a little of your product or service away for free. Your product is helping your student to a better career. Your classes are a means to an end.
Making it easy to contact you. When prospective students are ready to talk seriously about committing thousands of dollars towards their future, they will want to talk to a real person. Make it easy for them to ask a question, seek advice or speak with a decision maker in admissions.
Higher education institutions have an opportunity to stand out when they focus on their prospective students. Focusing on a clear concise content strategy with student needs in mind will allow higher education websites to reach their potential.