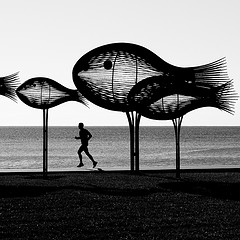 Last week, my fellow inbound marketing consigliere, Virginia Bussey, blogged about how you can encourage faculty and staff to create content for your online marketing efforts. A recent online experience also reminded me of how engaged customers and fans can help you create content, too. Here's my customer and fan content creation story...
On the Saturday of Memorial Day weekend, I saw a post from Runner's World magazine on Facebook about their latest run streak kicking off on Memorial Day. The requirements of the run streak are to run at least a mile a day from Memorial Day to Independence Day. Given that I was a bit overweight, chunky, growing a beer gut, could stand to lose a few pounds, I figured I would give this run streak a shot. It wasn't too long 39 days, it was manageable - a mile a day translated into 10 minutes of my time a day, and there was a good bit of online energy and excitement surrounding the run streak.
From an inbound marketing and content creation prospective, the folks at Runner's World did a very nice job of providing a content creation infrastructure for run streak participants. They wrote an initial explanatory article, created FAQs, and set up an online discussion forum and #RWRunStreak hashtag on Twitter and Instagram for posting daily mileage and photos and even created badges for various social media profiles. As a marketer, I was very interested in the content that could generated by this sort of infrastructure. What Runner's World effectively did was create an online support community whose (very valuable) byproduct was useful content.
For my own run streak, my content creation weapon of choice was Instagram. I don't really use Instagram for work like I do LinkedIn, Twitter, and (sometimes) Facebook - so I figured it would be a good place to document my run streak. I also felt it was important to make my own streak public - for the added pressure. You don't want people to think you suck because you publicly committed to a streak and didn't follow through on it.
I chugged through my first few runs and posted my pics - running shoes, destinations, etc. - all with the hashtag #RWRunStreak. I wasn't expecting a lot of response - I was mostly just looking to use the pictures as documentation. But a funny thing happened on my way though my first run streak. Folks that were also doing the run streak liked my photos and I liked theirs in return. I also started following other runners participating in the run streak. In turn, the photos they posted of their run streaks also pushed and encouraged me. I was part of an ever expanding Instagram support group for the run streak. The folks at Saucony even liked one of my pictures I hashtagged #Saucony. It was inspiration (and content generation) via Instagram.
Today will be day 22 of my run streak, and day 22 of my content creation and community building for Runner's World and their run streak - hows that for a fan creating content? Good stuff, right?
How are you encouraging customers and fans or even potential new customers and fans to create content for your brand? Do you have a proper content infrastructure that will help them create content for your brand? Most importantly, do you have a brand people feel is worth creating content for?
Thomas Leth-Olsen
via
Compfight
cc