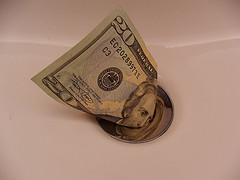 The fancy new website you built may be useless. This is a scary truth to admit, but better than living in denial. There are a few telltale ways to see if this is a predicament you are in:
Your website looks pretty enough to put in a museum, but it's hard to tell exactly what your company does.

Your copy reads like a brochure. You can learn a lot about your company, but little about the way your company helps customers.
You are not using a content management system or CMS, and because of this you cannot regularly update content to keep your site relevant.
You used a different company to do design than you did for development of the website. Now your site doesn't function the way you expected because the people designing it did not understand the technology it would be built on.
Your web design company kept missing deadlines. Now your site is launched but you are still running across bugs on a regular basis.
When you find yourself in this situation it is natural to want to dig your head in the sand and wait to try a redesign again in a couple years. Please do not wait. Your website is your most important digital asset. Its failure will quickly limit all your other digital efforts' success. Regardless of the cost of your website - if it's not optimized to capture leads for specific buyer personas, it will cost you much more in lost revenue from potential customers who abandon your website.
So what should you do now? Try, try again. But this time find a company that can do everything you are looking for in a web design project. They need to be experts in the strategy, design, and development for websites. They must not only understand your business but also how your website fits into a larger digital marketing strategy. They need to be in sync with your goals, brand, and users' needs. Below are some good questions to ask to see if they have:
How do you plan your website redesign's strategy?

Why is a website redesign worth this investment?

After the redesign is launched, what are the next steps?

Do you have a designer and developer in-house (then double check on LinkedIn)?

What is your experience with HubSpot (or whatever marketing platform your company uses)?
The answers to these questions will help identify which companies are worthy of your trust and capable of building a website that is the right foundation for your company's digital presence. When you find that special company worthy of your trust - get started immediately. There is nothing more important to getting your digital strategy back on track.
We may not be the right fit for your redesign, but we would be happy to point you in the right direction. Please let us know if there is any way we can help you get your digital strategy ramped up again.
Photo Credit:
OhKyleL
via
Compfight
cc