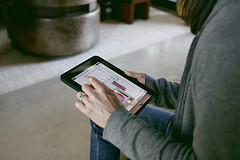 Our friends at Hubspot recently declared that blog posts are the new ad units. Unquestionably, the versatility and reusability of blogs and the content they house is powerful. Being the forward thinking folks that we are here at the Lynton Corral, we wondered - what's next? What's the ad unit of choice after blogs or in support of blogs. And the answer we honed in on was...apps.
Apps - The Post Blog Ad Unit
With the growing use of mobile search and smart phones, the need for more customized, meaningful results has grown, according to a recent New York Times article. When using smartphones, more and more people bypass traditional search methods and go directly to specific apps.
---

Users don't need links to Web pages. We need answers, solutions, whatever intel we were searching for."
Says Forrester analyst Shar VanBoskirk. That is where the power of apps comes in. Traveling soon? Use the Kayak app. Craving a latte? Try Starbuck's app. Want cheap gas? Use the Gas Buddy app. Mobile users are increasingly seeking specific, relevant timely information rather than a potpourri of links. In fact, the number of searches per searcher declined 7 percent in 2012, indicating new and complementary ways of seeking pinpoint information or knowledge.
Downstream From Blogs
Make no mistake - search will not be leaving us anytime soon. But as more users choose apps over search when seeking information, marketers and the companies they market for must be aware of the implications. A prospect may start following your blog through a series of organic searches. As that prospect is nurtured through your blog content you may encourage them to download your handy dandy app for very specific, just-in-time solution focused information - which they will use exclusively on their smartphone. Maybe your app is a savings calculator for your product or service. Pool company? Have an app that helps with pool sizing and maintenance expenses. Maybe let users take a picture of their backyard and have your app identify what size pool they need. If you are in the B2B space - offer a calculator that provides switching costs or the lifetime savings of your service. Very soon (if not already) an app will become a business and lead nurturing necessity.