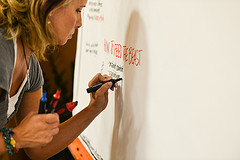 You've just joined your company as a newly minted CMO or VP of Marketing - congratulations! You've made it to the top of the marketing food chain. Now all you have to do is have a huge impact in a very short amount of time. Or you might get fired. No pressure, right?
With the expansion of marketing activities throughout the enterprise, a new CMO or VP of Marketing's impact will be far reaching and long lasting. Take some time at the beginning of your tenure to do the following "unthinkable" things:
Take A Vacation Your First Week
Huh? Wait, Roman - I just started my dream job and you're telling me to take time off? Well, sort of. Become a tourist in your new company and soak in your organization - from its general vibe and culture to its overall mission, values and goals. Avoid rash initial judgments in the first few weeks because your board is watching or because you feel you have to make them. Take time to assimilate and be an organizational tourist.
Do Basic Math
You will see lots of budgets, lots of ROI calculations, and lots of marketing spend. Be sure to keep the ROI math simple and to compare apples to apples. The consumer spend for marketing in your new Fortune 500 company may be way different and show much different results than the B2B spend - not too mention the differences in sales lifecycles. The really costly program you think is a no-brainer to put on the chopping block may be producing the lowest cost leads and have the longest customer lifespan.
Age Five Years
No, not physically. Yes it might be your first day but think of yourself in five years (preferably at the same company) and think of the programs you want to have in place. Do you want to be spending $100,000 on PPC keywords whose price may be rapidly increasing? Or would you prefer to have an encyclopedic library of content that attracts hundreds and thousands of website visitors monthly for a fraction of the cost. Which options would your board view as most successful and cost effective?
Bottom line: Take your time, compare the right numbers, and think five years ahead rather than five weeks ahead and you should be OK.
Dell's Official Flickr Page
via
Compfight
cc