Houston Restaurant Weeks 2013: Our Restaurant Map For Charitable Foodies
---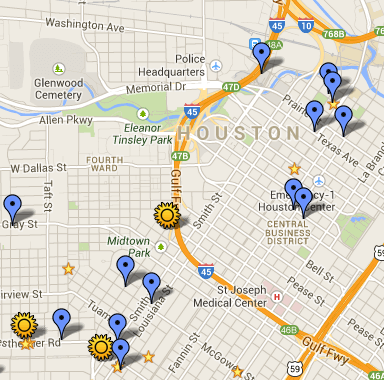 Houston Restaurant Weeks is now in its 10th year, and it has grown into a Houston institution, raising $2.9 million for our food bank. Houston is a city for food lovers, and the variety of over 100 restaurants participating in Restaurant Weeks doesn't disappoint.
Because we love Houston and food (though maybe in reverse order) we put together a nifty map of all the restaurants participating in Restaurant Weeks. Take advantage of our map and discover a new place (or two, or three) to patronize this month. You'll be feeding hungry mouths that are supported by the Houston Food Bank, one of the largest food banks in the country. Be sure to call in your reservation as participating restaurants are super busy this month. If you order from the Houston Restaurant Weeks menu, a portion of your bill will be automatically donated to the Houston Food Bank. If you'd like to make an additional $10 donation, simply text HRW to 20222.
Serves brunch
Offers beer/wine pairings
Oh, and since we are a top Houston web design agency we'd be remiss if we didn't remind remind you that embedding maps and other useful things like case studies and videos can be extremely helpful to visitors of your website. Offer an easy solution for website visitors whether they are purchasing ball bearings or looking for an incredible new restaurant. Check out our Planning A Website that Works whitepaper for additional website tips.