The Customer
AVEVA is a global leader in industrial software that provides engineering, planning and operations, asset performance, and monitoring and control solutions to help organizations drive digital transformation. AVEVA helps connect the power of data and artificial intelligence with human insight to eliminate silos and empower strategic decision-making. In turn, businesses improve safety, reliability, sustainability, and delivery.
The Challenge
AVEVA has over 6,000 employees in 90 locations across 40 countries, all working in dispersed business units. Their teams work with 5,500 partners and 5,700 certified developers and service over 20,000 customers worldwide. Describing them as an enterprise is almost an understatement, but that's what they qualify as, and consequently, they're constantly launching new campaigns while running existing ones.
No matter what size a company is, organizing and managing various marketing efforts can be challenging. For AVEVA's North American team, they had trouble balancing these objectives with other business goals. Their internal teams didn't have the time to devote to some projects, which became challenging when something needed to be done quickly. Essentially, their team still needed to get their marketing campaigns off the road, no matter the internal situation. That's where we stepped in as an extension of AVEVA's team, working diligently to match AVEVA's branding, content, and design guidelines.
The Solutions
The relationship between our team and AVEVA started in 2017 with a few select content and design projects. Over the years, we've ramped up efforts considerably. In 2020, AVEVA responded to COVID-19 by canceling their in-person world conference events, opening up their budget to more digital marketing, which they elected to work with us on.
We've collaborated on several different individual projects that showcase certain AVEVA solutions to targeted industries throughout the partnership. These campaigns all consisted of either copywriting or design and, in some cases, development. Generally speaking, AVEVA provides the topic and guidelines to us, and we offer a fast turnaround on deliverables. Whatever the assignment, we provide thorough, well-designed, and well-thought-out content.
Here are some examples of standout projects we've worked on for AVEVA North America:
Cosmetics Campaign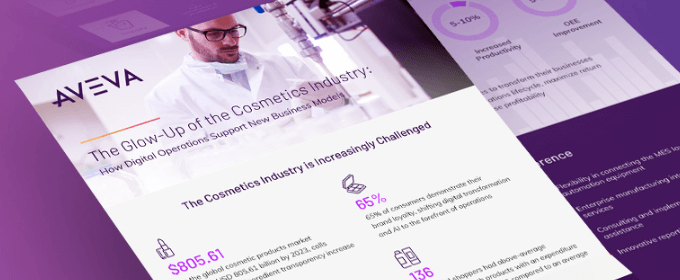 When AVEVA wanted to try their hand at account-based marketing, they turned to us for assistance. Their team narrowed down the particular audience, cosmetics producers, and manufacturers, then reduced their campaign to roughly 1,000 contacts. Together, we built a comprehensive strategy then crafted specific content aimed at the intended audience of this particular solution. Our teams:
Wrote a blog about the impact of manufacturing excellence and digital transformation on the cosmetics industry, with a tie into AVEVA's Manufacturing Execution Systems (MES) and Manufacturing Operations Management (MOM) solutions
Designed an infographic, including help line-editing the copy, that depicts the state of cosmetics for producers and manufacturers
Built landing page and thank you page templates and copy to gate the infographic and gather contact information
Designed a whitepaper that a third party wrote, with some help tightening up the headline copy
Created landing page and thank you page templates and copy to gate their whitepaper for the same reason as their infographic
Worked on LinkedIn and Facebook posts and social ads with custom graphics that related to the campaign content
Opportunity Microsite

When COVID-19 disrupted much of the industries that AVEVA caters to, they wanted a way to highlight how their solutions can help - in positive and negative economic environments. This resulted in our teams conceptualizing a consideration-level microsite that helps promote their Asset Performance Management (APM) software. For this, we:
Created wireframes to get initial feedback on what the microsite would look like
Scanned through hundreds of case studies to select the best stories to show the impact of the APM solution
Wrote headlines, introductory content, descriptive copy for an APM assessment and press release, CTAs, and mini case studies to include on the site
Designed the entire look and feel of the site after completing copy; afterward, we developed it and launched it
Crafted copy and custom graphics for LinkedIn advertising to send users to the site
Monitored the reach of it, making copy and design optimizations to grow organic reach, from October 2020 to present
Wrote copy and designed DemandBase ads to send users to the APM press release featured on this microsite
Second-Touch Webinars
AVEVA's North America team consists of leading industry experts contributing to AVEVA's content marketing efforts by conducting focused webinars. They run anywhere from five to eight webinars a month, with some months exceeding this target. While they had the "pre-marketing" locked down for these, AVEVA needed a better way to follow up with registrants. Our teams:
Segmented their audiences in "attendees" and "signed up but didn't attend"
Built a HubSpot template for these second-touch webinars
Determined relevant follow-up content for each audience
Wrote copy for both audiences for 25 separate second-touch webinars
Food Dive Campaign
Food Dive is a leading publication that offers insight into the most impactful news and trends shaping the food industry, covering topics such as manufacturing and packaging. AVEVA's MES software greatly benefits the food and beverage industry. Their teams, along with guidance from ours, explored a content syndication campaign with Food Dive to target these specific manufacturers. For this campaign, we:
Wrote and designed a unique landing page centered on a Clif Bar success story that adhered to both AVEVA's and Food Dive's branding
Strategized, wrote, and built a three email lead nurture campaign in HubSpot to drive users to the PDF case study and other content
Created copy and designs for different DemandBase ads that would display across websites that their target audience frequented
Led the DemandBase ads to the MES product solution page on AVEVA's website
Data Center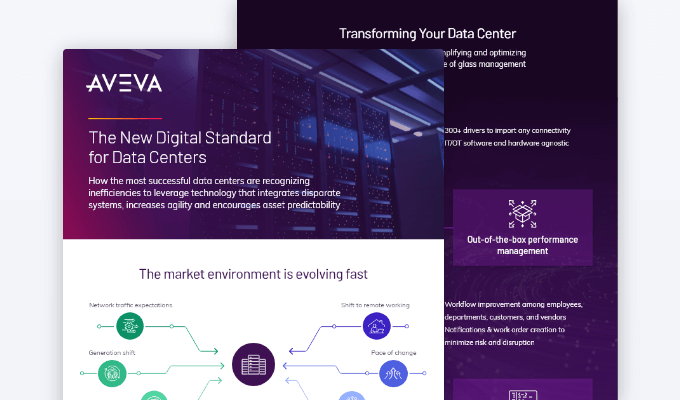 After seeing success with their account-based marketing campaign that targeted cosmetics producers and manufacturers, AVEVA shifted to data centers. However, this time they wanted to showcase their Unified Operations Center (UOC) solution. We followed a similar pattern and:
Met with members of AVEVA's team to determine the challenges that data centers face and the solutions they can use
Shifted through other content for inspiration for an infographic
Created an outline of an infographic in Google Drive, including copy
Designed the infographic after finalizing the content with AVEVA's team
Developed landing page and thank you page copy to gate the infographic and a whitepaper created by another vendor
Wrote and designed LinkedIn ads to send users to the landing page
Utilized DemandBase display and leaderboard ads to target users on other websites they visit
Did You Know Webinar Series
AVEVA's solutions are robust and powerful, but they can appear overwhelming for prospective customers and customers alike. In fact, AVEVA noted that some of their users only engaged with a slim portion of the software they purchased. To help their client base get the most out of their investment, the North America office devised a campaign called the "Did You Know" webinar series. The series of 15-minute webinars aim to show off everything their solutions do. To make this campaign successful, we:
Helped them with the initial strategy and PowerPoint to present to leadership and get their buy-in
Created an AVEVA branded PowerPoint template that their presenters could easily find and use to build out their webinar content
Wrote landing page, thank you page, and LinkedIn ad copy for seven "Did You Know" webinars
The Results
During the whole of our partnership, we've consistently impressed AVEVA with our content. They know that whenever they can't get stuff done in house, they can turn to us and receive quality, branded work that gets results such as:
34 new contacts from traffic sources and two SQLs from the lead nurture for the cosmetics campaign
Low bounce and exit rates on the landing pages for the cosmetics and data center infographics
An average open rate of 27.1.% and average click-through rate of 4.45% for the "second-touch webinars"
71 of the 96 target accounts visited the APM press release DemandBase campaign and generated 245 page views, with 637,859 total impressions for the entire campaign
All of the assets, minus DemandBase ads, are still available to AVEVA users on an ongoing basis, meaning they continue to offer ways to educate prospects and customers. Their team also continues to be wowed by our efforts, coming back to us time and time again with new initiatives that require assistance. Hear how their Senior Industry Marketing Leader describes our ongoing relationship: