The Customer
In late 2018, a travel and touring company whose primary mission is to provide high quality and affordable group tours to countries worldwide came to Lynton looking for help making the most of their marketing and sales data. We quickly learned that they offer small group tours to excited travelers, with many being repeat customers, so their databases were filled with valuable information ready to be used.

These trips come with numerous features like international airfare, deluxe hotel accommodations, professional guides, and in-depth excursions related to the destination. Before even beginning our projects with them, their internal team knew they wanted to reach those who've gone on one of these past trips and other budget-minded travelers.
The What & Why
To reach new leads, our client needed a way to use the information in their trip-booking system, Peak 15 as well as the customer and contact information found in their Microsoft Dynamics CRM, to successfully convert those who've inquired about a trip into customers. Likewise, they wanted to promote additional trips and options to people who've already experienced a tour.
Their Peak 15 and Dynamics combination allowed only a high-level view of what they ultimately wanted to achieve: better marketing to grow their list of travelers while delighting their current explorers. Lynton saw a better way to align specific instances when inquiries happened on their website. And so, our partnership officially began!
The Solution
Our client had to keep the valuable information in Peak 15 and their CRM but expand upon it, so our first action was to introduce them to HubSpot's marketing growth stack and successfully integrate the contacts between the two systems. Thankfully, we excel at HubSpot integration, training, and onboarding – so they were in good hands long before bidirectional syncing of their systems (with custom Peak 15 entities) began.

A prime concern raised in initial meetings was email marketing, so it was only natural to forgo their current email platform for HubSpot's. They also lacked a detailed tracking of their audiences, and therefore, ways to target them. To approach these issues, we offered these specific solutions:
Integration of Dynamics and Peak 15
Buyer persona and journey mapping
Content strategy, notably email offers, content assets, and overall conversion paths
Six automated marketing campaigns, including re-engaging campaigns for existing customers
Solution 1: Integration of Dynamics and Peak 15
Before beginning any marketing initiatives, our client first needed to integrate their Dynamics CRM system and their Peak 15 booking system with HubSpot. Our team built a standard bidirectional integration between Dynamics and HubSpot, and created custom entities to reach the data in Peak15.
Once finished, all the appropriate contacts and their corresponding data were successfully synced from Dynamics/Peak15 to HubSpot. With this integration, anything that happens within Microsoft Dynamics is automatically synced to HubSpot. Likewise, any time an inquiry or booking occurs with Peak15, it is automatically synced to HubSpot. This integration created a better method for the tour company to nurture their contacts to buy trips – and more subsequent trips – by sending them the best content at the right time.
Solution 2: Buyer Persona and Journey Mapping
Our client knew who their target audience was but never put the idea to paper, making it difficult to market to them consistently. After researching and interviewing their stakeholders, we were able to narrow down the specifics of their buyer personas – older, married professionals with adult children – and upload the data into HubSpot. Subsequently, we were able to begin mapping their buyer's journey, and as we started, we noticed gaps in content.
For example, they had a broad library of promotional, or awareness-level content but lacked anything that related to consideration or decision-level stages of the buyers' journey. After noting this, we were able to determine what type of content offers to create and how to implement them.
Solution 3: Content Strategy and Offers
Part of any successful inbound campaign is its content. That's why we spent quality time with this particular group-touring company coming up with content and offers that align with every stage of their newly developed buyer personas. We created two customer journey mapping and content recommendation documents that solidified an easy-to-follow conversion pathway for both of their buyer personas. We suggested ideas such as:
An awareness level guide to planning a bucket list trip
A consideration checklist to help select the right private travel tour for a group
Decision level testimonials of happy tourists
And a delight-level travel guide to secret vacation destinations
Because our client previously had never tested their content before, strictly sending promotional content only, the mapping project proved to be fruitful, with both parties presenting numerous ideas. After finalizing these documents, we utilized the content ideas to launch six marketing automation campaigns.
Solution 4: Email Marketing
Once their systems were integrated and their conversion pathways solidified with relevant content, we created six email marketing automation campaigns, broken down into three categories:
New lead
Active repeat customer with a trigger workflow relative to their last tour or purchase
Dormant former customer
To be effective nurturing these audiences, we provided certain deliverables:
Eighteen emails

Three emails per campaign
One email template for all campaigns

Smart content

Three segments per email
Ex: CTAs were developed to match a specific email recipient, landing page CTAs were smart, personalization used throughout the campaigns

Three landing pages

One per campaign
One landing page template for landing pages
Three campaign assets
Used solely to re-engage former customers
The Results
Our client saw great results across the board. Their emails and landing pages used within their various campaigns gathered high metrics. For instance, the travel industry has a 20% average open rate for emails, and an average 2% click-through rate. Theirs? Well-above average, with a 21% open rate and a 15% clickthrough rate. Through segmenting – which was not manageable before their integration – the highest open rate they saw in a single email was double the industry average.
Other notable open rates include the response to emails they sent to their formerly dormant customers. It's safe to say these customers are no longer cold now! But that makes sense given the care taken in segmenting, contextualizing, designing, writing, and sending their emails -- all made possible through our teamwork.
Similarly, the landing pages created with the template we designed and implemented for them performed above industry standards. For instance, for the travel industry, a 5% view to contact rate is considered good. Our client completely smashed this out of the year as well with a 40% view to contact rate.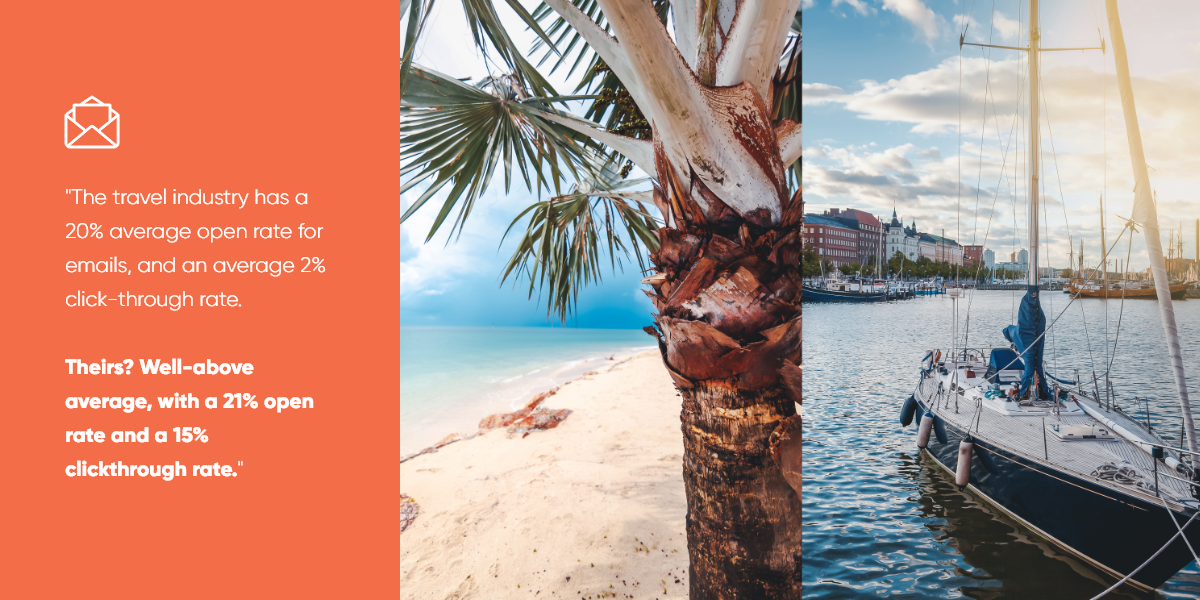 Lasting Impact
All of the collective work done by Lynton and our client's team helped position them as an industry leader. What's more, we helped display them as a company that cares about people's travel experiences – because they do! They wanted to be more personable through the data gained from the integration, and they did just that.
Additionally, our client wanted more knowledgeable content, so their travelers were prepared to have the adventure of their lifetimes. Through HubSpot's robust growth stack, our client reached all their goals, and then some. Now, this group-touring company can present that they're not just selling tours; they're selling life-long memories.